So that's where all those Wii U Basic consoles went- Skylands.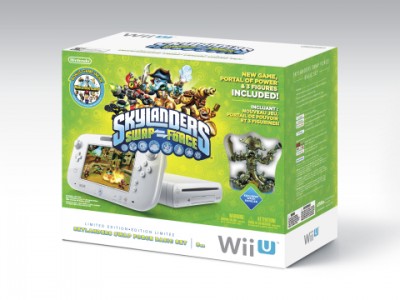 Joining the recently announced duo of the Super Mario and Legend of Zelda-themed Wii U Deluxe Sets is the Skylanders SWAP Force Wii U Basic Set. You might remember that the Basic Sets for Nintendo's newest console all but dried up at retail shops recently, but it's certainly back with a vengeance as it's now being packed-in with one of the biggest games of the year in SWAP Force.
"There are so many great elements to this Skylanders SWAP Force Wii U bundle that we almost couldn't cram them all into the box," said Scott Moffitt, Nintendo of America's executive vice president of Sales & Marketing. "This amazing deal provides a huge amount of entertainment for kids and their families to play together."
And if you're thinking that this is the vanilla Wii U version of SWAP Force that's in the box here, you're mistaken. You'll find some neat Skylanders extras in the pack along with an exclusive character variant that you won't find anywhere else.
In all, you get:
a white Wii U Basic system
a Skylanders SWAP Force starter pack that includes:

Skylanders SWAP Force Wii U software
a Portal of Power®
three Skylanders figures, including Ninja Stealth Elf (one of the Core Skylanders) and two SWAP Force™ characters: Blast-Zone and an exclusive color shift Washbuckler
a collector poster, trading cards and sticker sheets

a Nintendo Land™ game disc
That's a nice little bonus there that you get the Nintendo Land game in the box too. We took a look at the console version of Activision's beast of a franchise here and loved every second of it, so if you're thinking of a Wii U for the Holidays, this just might be the set to get.
You can find the Wii U Skylanders SWAP Force Basic Set in stores starting November 15th, it'll cost you $299.99 USD.