It's definitely different, I'll give Valve that. The company just announced the last in a string of Steam-related news this week with the reveal of a controller that has no traditional buttons, no sticks and no pad.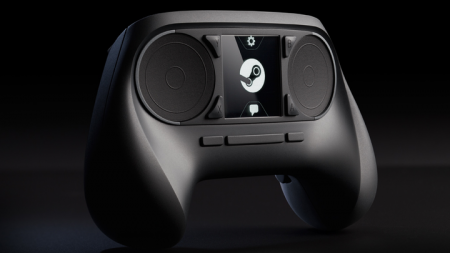 Yep, that's it right there. The future of PC gaming. Or not.
The Steam Controller, just announced by Valve, is definitely as far from what I'd cll a traditional controller as you can possibly get. There's absolutely nothing about the thing that says 'game controller' and I don't know if that's a good thing or a bad thing. As a gamer who's always used a traditional pad and uses an Xbox 360 controller at the moment for PC games, I don't know if Valve's newest is really something that'd interest me.
It is eye-catching though. The controller features a pair of hi-def track pads that are clickable, which basically means that they can function as 'movement' controls or 'face buttons'. In the middle of the device is a touch-screen. This is an actual touch-screen with all the bells and whistles and full-on display capability. It's also 'clickable' so it can function as another button. A pair of triggers adorn the back of the pad in a more typical style.
Oh, and here's something very cool about the little guy- it can actually work with games that weren't designed for controllers as it can mimic a keyboard and mouse input. So if you're playing, The Incredible Adventures of Van Helsing for example, players using the Steam controller will be able to move their Van Helsing as though a mouse were in play with the right (or left) trackpad and input commands with the other. That's also possible via the fact that the controller is fully open and configurable, so whatever you'd like it to do in a certain game, well, it can do. Admittedly, even for a traditional mouse and keyboard or controller gamer, that's pretty awesome.
If you'd like the full details on the Steam controller, or would like to sign up for the Beta program, click here and head to the official page for all the Steambox and/or controller goodness you could ask for.
So what's your opinion on all this week's Steam-iness? Like it? Hate it (I already know how Troy feels)?