Shadow Warrior hero Lo Wang will soon be penetrating his enemies with more than just a katana on the PC thanks to Saints Row IV's 'penetrator' weapon.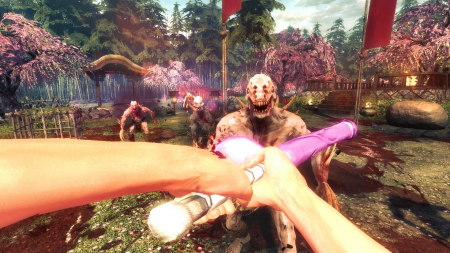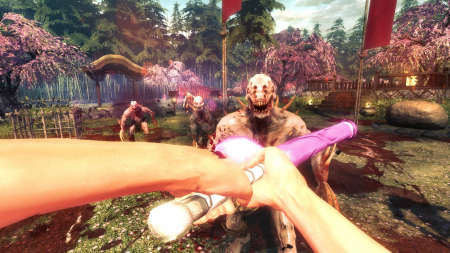 You don't see too many 'crossovers' like this one from companies that don't have the name Valve and we really don't need a Penetrator hat in Team Fortress, but you'll soon be able to wield the destructive power of a massive, purple dildo-bat in Shadow Warrior thanks to a deal between publishers/developers. Deep Silver and Volition (of Saints Row IV fame) and Devolver Digital and Flying Wild Hog (Shadow Warrior) have teamed to bring the 'iconic' Saints Row dildo-bat to Shadow Warrior on the PC where it can replace hero Lo Wang's katana.
Slicing into baddies with a Penetrator instead of a sword? Sure, why not.
"I'm sorry I can't really hear you over the sound of all that money being thrown at screens around the world," said Fork Parker, Devolver Digital CFO. "And I don't know what to tell you other than you can now wield a giant purple dildo from Saints Row IV in Shadow Warrior. There's your headline, nerds."
All you need to do to get the 'weapon' is to have a Steam copy of Saints Row IV in your digital collection when you buy Shadow Warrior. Really, that's it. I know it seems almost too good (?) to be true, but that's really all it'll take to have Wang wield some wang instead of steel.
Saints Row IV is available now for consoles (though those versions won't get you the Penetrator) and the PC; Shadow Warrior is set to drop in just for the PC on September 26th.