If you're familiar with Udon's artwork and the stuff that they've done for Capcom in the past (particularly with the Street Fighter franchise) then you probably don't need to hear too much more than this to get excited: They've got a Mega Man 25th Anniversary artbook on the way for Comic Con.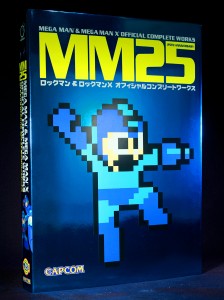 A quarter century of artwork featuring Capcom's celebrated Blue Bomber is captured in the book with over 400 pages of everything fans love about the long standing video game icon. Originally published in Japanese, the SDCC edition of the tome marks the first time that it'll be available in English. The Comic Con version will also feature a blue laser foil cover which'll be exclusive to the show edition.
MM25: Mega Man & Mega Man X Official Complete Works is an in-depth chronicle of the amazing art created across 25 years of games in the Mega Man series by the good folks at Capcom! Featuring over 400 pages of official game art, concept designs and sketches, rare pin-ups, and all-new tribute art, this is a stunning art book collection that every fan of the Blue Bomber will want on their shelves. UDON Entertainment has faithfully translated the entire book into English, including production notes, creator comments, and three all-new exclusive interviews with the creators from across the history of the series!
The limited edition version of MM25 will be available on a first come, first served basis at Udon's booth (#4529) and will be priced at $100 USD. Reading between the lines there – get to the booth early if you want a copy.