Dark Horse Comics debuts S.H.O.O.T. First, their newest monster smashing title, this Autumn.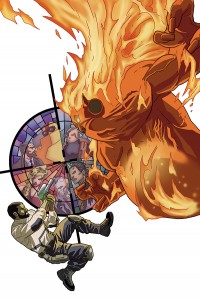 The Secular Humanist Occult Obliteration Taskforce is an interesting group of folks. Very different than Dark Horse's BPRD universe books, the men and women of S.H.O.O.T. actually channel their disbelief of the supernatural through their weaponry. That's some pretty violent debunking right there.
The miniseries (for now anyway) is the brainchild of writer Justin Aclin, who you may know from his stints on Star Wars: The Clone Wars and Twisted ToyFare Theatre; the latter of which I miss horribly. Aiding him in his mission of monster smashing is artist Nicolas Selma and the both of them are pretty pumped to finally see the book hit the market.
"S.H.O.O.T. First is the most personal story and the most epic story I've ever written. It's about how we deal with the loss of faith, plus it's got crazy sci-fi action and a robot arm-wrestling a demon," says writer Justin Aclin.

"If you are into angels and demons, weird looking creatures or just big guns, S.H.O.O.T First will totally blow your heads off," adds artist Nicolas Selma.

"I'm so excited by the tremendous work that Nicolas Selma is doing on these issues, and I couldn't be more proud to be publishing my first creator-owned miniseries through Dark Horse Comics, which has been where comics' finest creators bring their greatest creations for decades," adds Aclin.

"It was incredible for me to cooperate with Justin on this great project," says Selma. "My childhood dreams are coming true!"
Dark Horse Comics picked a great time to release S.H.O.O.T. First too as the series will debut with issue one of four just in time for Halloween- on October 16th. If you'd like to read more about the comic right now, check out a special inside look at the tale of disbelief in the NY Posts's Parallel Worlds column.