Yes, no longer must we suffer with the 'next generation consoles' tag line.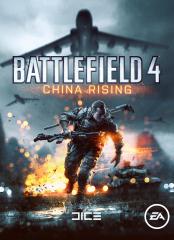 Now that both of the next gen systems are out of the bag, EA has officially announced that Battlefield 4 will indeed be coming to both the Xbox One and the PS4. In all, that brings the number of machines that will be able to play B4 to 5 since the game was already announced for the Xbox 360, PS3 and the PC.
After seeing the game in all its glory in the gameplay sample though, it's hard to imagine playing it on a 'current gen' console. So early adopters, this one's more than likely for you.
And to that end, EA has announced that preorders of the game (for any system) will be receiving a little bonus love in the form of China Rising. Battlefield 4 China Rising is set to be the first expansion of the game and will include four 'massive' multiplayer maps wherein players can wage war across the "vast and majestic Chinese mainland". The pack will also include new vehicles and "hi-tech" equipment for you to play with.
Folks who preorder through Origin are in for a little extra treat too, as PC players will get some bonus in game items and access to the multiplayer beta coming up this Fall. Presumably, that won't be all that long before the game actually drops onto shelves and digital download services as Battlefield 4 is set for deployment on October 29th.