Dark Horse Comics announces The Halloween Legion: The World's Weirdest Heroes will be haunting the graphic novel sections of book shelves soon.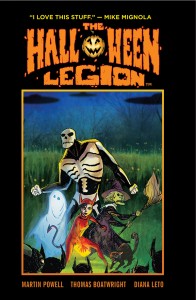 Written by Martin Powell, The Halloween Legion features an assemblage of very strange guardians for the sleepy, rural town of Woodland in the forms of The Skeleton, The Witch, The Ghost, The Devil, and Autumn the Black Cat.
Powell and artist Diana Leto "share a passion for All Hallows Eve" and it shows through in The Halloween Legion:
"I had the notion for THE HALLOWEEN LEGION, a team made up from Halloween archetypes, when I was still in high school, but it's taken this long for me to know who they really are," Powell explains. "Diana has added considerably to their visual and personal charm. She instinctively knows the World's Weirdest Heroes as well as I do, and they are very real to us. The art by Thomas Boatwright captures the HL's whimsical nature without diluting the darkness lurking within our little group of weirdos. At last, they are ready to be born into comics and graphic novels – and now every day will be Halloween!"
Also in the book is a tale called "Once Upon a Halloween" which is, according to Powell, his own eerie autobiography. Both stories are getting all kinds of advance praise including some from comic book legend and Hellboy creator Mike Mignola.
Mignola, no stranger to the macabre and general oddities was quoted as saying "I love this stuff". Also loving The Halloween Legion is co-creator and artist Leto.
"This is such a wonderful project to work on," adds co-creator, Diana Leto. "The story really brings back some magical childhood memories of Halloween and the message that Martin's 'weird' characters deliver is an important one for children and adults."
"Magical childhood memories" and Halloween are two things that tend to go hand in hand, personally I can't wait to see the tale that Powell weaves with The Halloween Legion.
Jason's been knee deep in videogames since he was but a lad. Cutting his teeth on the pixely glory that was the Atari 2600, he's been hack'n'slashing and shoot'em'uping ever since. Mainly an FPS and action guy, Jason enjoys the occasional well crafted title from every genre.