Twenty-five issues later, Dark Horse Presents is rolling with original content that just keep on getting better. To celebrate the launch of the 25th issue, Dark Horse is bringing out the big (fanged) guns.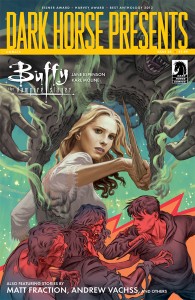 The quarter-century issue marks the beginning of the book's third year of publication. DHP loads up with 80 pages of ad-free reading, with new stories every month- you won't find any reprints here. What you will find though is an amazingly wide arching collection of comic book shorts that not only entertains, but also gives readers a look into genres that they might not have tried by themselves.
"Dark Horse Presents is a reflection of everything that has made Dark Horse Comics so successful over its history . . . great creators, amazing stories, and a showcase for exciting new talent," says Dark Horse President Mike Richardson.
For its 25th Dark Horse Presents will be bringing in a story based in a universe that's as famous on television as it is in the comic world- Buffy the Vampire slayer.
After training with Buffy, Billy the vampire slayer heads back to his hometown to deal with the zompire epidemic! Delve into a time-travel story from Eisner Award–winning writer Matt Fraction! Publisher Mike Richardson adapts Andrew Vachss's vision of violence in the big city in Underground!
Of course that's not all you'll find in DHP #25, because there's a ton of other stuff in this issue.
Read a chapter of The Chapel Chronicles by fifteen-year-old Emma T Capps. Plus, new installments of Ron Randall's Trekker, Frank Barbiere's Blackout, Mike Baron and Steve Rude's Nexus, Phil Stanford's Crime Does Not Pay, Fred Van Lente's Brain Boy, Peter Hogan's King's Road, and Dan Jolley's Bloodhound!
I'm a fan of the 'collected story' series in general, and Dark Horse has pretty much done everything right with their premier anthology. You'll get the big name stuff from the creators that you know, and the lesser known (some might say niche) work from folks that you might not have ever heard of if not for DHP.
Do yourself and favor and grab a copy of Dark Horse Presents #25 when it hits stands on June 19th. There's really nothing else like it (that's done anywhere near as well) on the market today.