Dark Horse Comics will be transferring new stock to fill demand for the first issue featuring Francesco Francavilla's new pulp hero.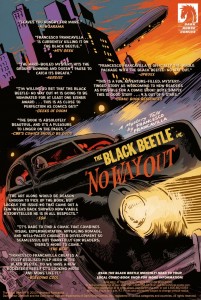 Called one of 2013's best (already!) by the press, Black Beetle is seeing a terrific response from fans as well as it's sold out at the retail level. As a result, the publisher will be moving stock over to Diamond Comic Distribution "from other channels to ensure retailers can capitalize on the series' success!"
The book tells the story of a superhero very much in the classic pulp mold of the Shadow and Green Hornet- with maybe just a little bit of Batman thrown in for good measure. Issue #1 of the Black Beetlt: No Way Out should be available now for order at your local comic shop.
And you might want to catch up quick, as the second issue will be on stands on February 20th.