Publisher Little Orbit will be partnering with Descendent Studios to bring the developer's Descent prequel to consoles.
Prepare for Descent
A classic series, it's been a while since Descent appeared on anything, let alone consoles. First released on the PC, the game (and its sequel) revolutionized the then-fresh FPS genre. Instead of being on foot, the shooter plunked players into a small spacecraft, and gave them the now-famous "six degrees" of freedom of movement.
Now some two decades later, it's actually still fairly unique amongst FPS'. And it's on the way back thanks to Descendent Studios. The new game will be a prequel to the original title, and feature "celebrity pilots commanding combat spacecraft in high-stakes battles for control of warren-like asteroid mines". Kind of a neat story there.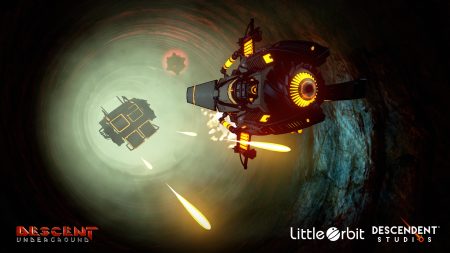 Before this week though, the game was confirmed solely for the PC. That's not the case anymore though, as publisher Little Orbit has picked up the rights to the game, and will be porting it to the PS4 and the Xbox One.
"We're proud to help give the Descent series the full, modern AAA rebirth it deserves," said Matthew Scott, CEO of Little Orbit. "Descendent had the experience, the vision, and the drive. Now with our help, they have the support to take Descent: Underground out of this world!"

"Little Orbit is helping us to enrich players' experience in Descent: Underground with a larger storyline campaign, excellent art, and deeper metagame," said Eric Peterson, Descendent's CEO. "With Little Orbit on board, we're progressing faster towards delivering the amazing modern rebirth that Descent deserves!"
These won't be solely digital either.
Little Orbit has confirmed that the console versions will be boxed retail copies. A new Descent game out there on store shelves? Believe it. Just as to when you might be seeing such a sight though, is still up in the air.
As of right now, it's targeted for a general "2018" release.