NFL fans, the choice has been made. Patriots QB Tom Brady is the official cover star for Madden 18, celebrating the all-time greats of the game.
"The Madden NFL 18 cover is a great honor for me," said Brady. "Especially since I have been playing the game since growing up next to EA headquarters in the Bay Area. I'm not one to believe in curses, so I'm ready to take the challenge head on like always! It doesn't stand a chance!!!"
G.O.A.T.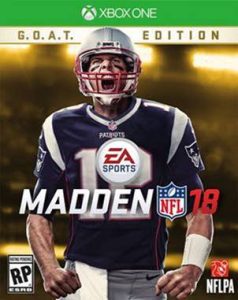 Fresh from another Superbowl win comes Brady, who's no stranger to the greatest of all time tag. So it's kind of fitting that he'll be on the cover of a game that will have a G.O.A.T. edition. Yes, that's right, Madden 18 will indeed have two versions. There'll be one vanilla, and one with that golden ribbon across the top.
But buying into that plain version will still net you some bonuses, if you pre-order. What's included? Well, you'll get your choice of an Elite player from your favorite NFL team for use in Madden NFL 18's Ultimate Team, and five Squad Packs. Those will be redeemable at launch.
As for that "Greatest" version, well you're in for slightly more. You'll get all of the above, plus "one of five G.O.A.T. players of their choice for Madden NFL 18 Ultimate Team, and more." While most of that "more" is a mystery still, we do know that GOAT-buyers will also get to play before anyone else.
You'll get to kick off your season early with a three day window, as you can begin the march to glory on August 22nd. Want to dive in even sooner? If you're a member of EA Access on the Xbox One, you can play as of August 17th, for 10 hours straight via an EA Access Play First Trial. And of course, Access gamers will get a nice little 10% off discount too. Not too shabby.
So there you go, the first tastes of Madden for this Fall. Of course, you should stay tuned for plenty more as we get further into this off-season. All of which we'll have for you right here on BG.