Action figures go to war once again as Ubisoft's tower defense title gets an infusion of real-world toys, but is it enough to turn the tide and take the series to the next level?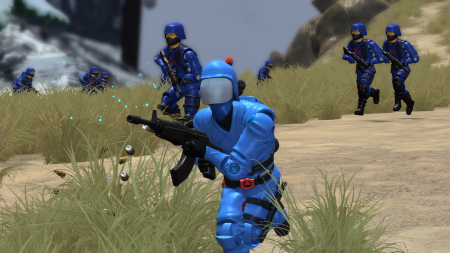 I've never played a Toy Soldiers game, even though I've been plenty attracted to the series in the past. There's something really appealing about taking opposing armies of action figures (even 'made up' ones) and facing them off against each other. The Cold War Edition in particular was pretty awesome looking, what with Rambo being playable and all.
Still though, even though I wanted to play, I never had the oomph to actually make the purchase and download a copy. Why? Basically, it's because none of the toys featured in the game were licensed. I realize how dopey that thought is, especially since a good license does in no way mean that you get a good game as a result. I still always thought it'd be cool though, to see the toys of my youth battling on screen. And that brings us to the latest evolution of the series.
Toy Soldiers: War Chest – Hall of Fame Edition includes a set of fabricated toys to play with sure, but then you also get both sides of G.I. Joe (so the Joes and Cobra too), He-Man and the Masters of the Universe, and Assassin's Creed… for some reason. It's not a bad thing, but I don't get the inclusion of one of Ubi's biggest franchises in this game.
I mean, I get that they put Ezio and the Assassins in there simply because AC is one of the most popular properties that they have, that's not what I mean. The subtitle of the game is 'Hall of Fame', so shouldn't the toy lines that are featured all be classics? And while we're on the subject, why the phonies at all? Why not just bite the bullet and license a solid roster of toys from the 80s/90s?
Yes, it'd be a lot of money to do it, but I have to believe that Ubi would make a killing off of the nostalgia alone. I mean, if you had He-Man and G.I. Joe in there, plus Transformers, The Real Ghostbusters, M.A.S.K., Dino Riders, Thundercats, and maybe one of the superhero lines (Super Powers or Secret Wars), how amazing would that be!? Again, I know this would cost a small fortune in licensing, and you might not get some of them anyway as their parent companies might not play nice. Still though, it'd just have been so, so cool.
But even though there aren't a ton of great licenses in the game, Toy Soldiers still manages to be plenty of fun. And the reason for that is the fantastically addictive gameplay. If you dig tower defense, then you're going to love this. And if you don't, well you still might like it. I do after all, and I really don't consider myself a fan of the genre at all. Really, at all.
Basically, it works a little something like this; you set up turrets of varying kinds when you're on defense, and raise up an army when you're on offense. Units can be upgraded as you play, or cashed in at any time in order to get something more appropriate going. You'll also find that there will be some units laying around certain maps that you can use, like dragons, war-eagles, or tanks (depending on the theme of the 'playset' that you're waging war on).
There are also heroes and other special units that can be activated at different times. These are most fun when dealing with the licensed properties though, in that controlling He-Man and hacking down waves of the opposition is way more interesting than stepping into the boots of Kaiser Wilhelm. See what I mean?
With the individual standard units too, it's the licensed properties that make for the majority of the fun. As Cobra for example, you can set up a ton of the classic toy sets like the Cobra bunker, ASP (anti-aircraft), and Stinger Jeeps (anti-armor). If you remember these toys from when you were a kid (or the recent remakes), then I think you'll find it a very difficult task to dislike what you can play with here.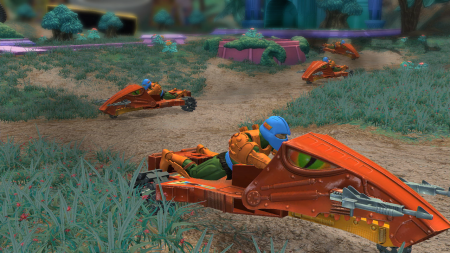 But I digress, because there are more good points to the game that have to still be talked up. For starters, the graphics are great and reflect the toys really well. The various properties are really well detailed too, and feature all the right points of articulation and appropriate accessories. Ubisoft did their homework on these toys and it's greatly appreciated.
The sound isn't quite as good though, as the voice actors really don't hit the mark too offend and don't sound enough like the cartoon versions of some of these characters. Liekwise, I would heave loved it if the iconic theme songs were included here, although the tunes are good enough. Actually, I can't complain all that much about the voices either, as this is a game about toys, not cartoons.
Final Thoughts
Toy Soldiers: War Chest – Hall of Fame Edition is a little bit of a mixed bag for me.
The game itself is actually pretty great, with lots of things to do and play around with (including some terrific customization options), cool details, and some very addictive, tower defense gameplay. Likewise, the graphics are great and really reflect the action figure aesthetic.
On the other side of the coin, I can't help but be more than a little disappointed that the opportunity to add in more classic toy lines wasn't capitalized on. War Chest – Hall of Fame Edition could have been way more true to its name if that was the case.
Don't get me wrong, it's a really fun game that I very much enjoy still, but it could have been so much more.