Payday sequel is getting a huge amount of post release support.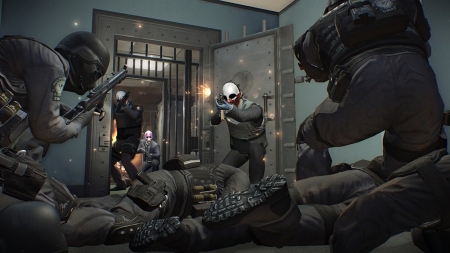 The Game Director for Overkill Software, David Goldfarb, has told Joystiq that there are 5 DLC packs planned for their recently released game Payday 2.
"Payday 2 – just like its predecessor Payday: The Heist – is a living thing. We have 5 DLCs planned together with 505 Games for the coming year." the game will be supported by a combination of free and paid content, "just like we did with the first game."  Goldfarb also stated that they would love to add support for the modding community in the future, and that the team were going to continue to look into this possibility.
Producer Almir Listo posted a message on Steam relating to the safe house customisation options and Cloaker units would be added down the line.  "The safe house is what we intended it to be at release," Goldfarb said. "Just like Bain says when you enter the safe house for the first time, it's not much at the moment, but give it some time. He's working on it and he'll let us do some decorating soon."
Source: Joystiq
Mike is Brutal Gamer's Indie Editor. He has been playing video games since the early 90s and is fond of racing games, puzzlers and MMOs. Typing /played while in WoW makes him cry, but not enough to stop him playing some more.


Mike Jones
has contributed 1208 posts for Brutal Gamer