The latest Nintendo Direct Mini is up, showcasing much anticipated games coming out in the near future and ones already available.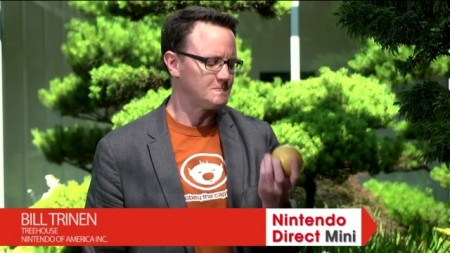 Nintendo of America's Bill Trinen starts us off with Animal Crossing New Leaf, high lighting ways in which you can use image share with Animal Crossing. Mario and Luigi Partners in Time is given exposure with a new trailer. You'll notice the return of Bowser's henchmen in Luigi's dreams in their attempt to take down Mario and Luigi once and for all.
Some cool attacks are displayed by the brothers, like Mario using multiple Luigis as a tower to stand on. You'll also notice a familiar system as Luigi turns giant to battle a monster composed of houses. Turning your 3DS sideways just as you did with Bowser in the previous Mario and Luigi title, you will engage in a brawl against the massive foe. Mario and Luigi Dream Team will come out for the Nintendo 3DS August 11th.
Pikmin 3 also gets a mention in today's Nintendo Direct Mini, with Trinen sharing some tips on how to more effectively play bingo battle. He shares strategies with players such as taking a small group of pikmin and collecting as many items as possible, or stealing an opponents kill after they've whittled an enemy's health down significantly. Pikmin 3 will be released August 4th for the Nintendo Wii U.
Next up is The Wonderful 101, accompanied by a new trailer that gives you a brief look at the game's story mode. A bus full of school children are attacked, and it's up to the Wonderful 101 heroes to save them from inevitably hurling off the road. Wonder-Red creates a road with his unite build power, stopping the bus from crashing into a school full of children. The villains also debut, as they discuss how they're going to deal with the Wonderful 101. The Wonderful 101 will be available September 15th on the Wii U.
Some interesting looking downloadable titles are displayed as well, starting with Cloudberry Kingdom, a platformer with levels that are randomly generated, making your experience different with every playthrough. This title is be coming out for the Nintendo eshop August 1st. DuckTales Remastered, the HD remake of the classic NES title DuckTales was shown as well, and you can play it on the eshop August 13th. The motion based party game Spin the Bottle: Bumpie's Party is shown, and will be launched this August.
Finally, we have Earthbound, the long awaited eshop title that fans have been anxiously anticipating. After a nice little montage of gameplay, we see Trinen holding an Earthbound strategy guide. He goes on to announce that a digital version will be available for everyone to see on Nintendo's website, including being able to browse through it on the Wii U gamepad. It's a nice little nostalgic treat to commemorate the game's release on the eshop. Earthbound is currently available for download on the eshop.