New Mexico's comic and pop culture entertainment extravaganza will play host to a major Valiant Comics presence.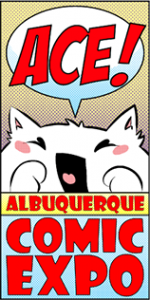 Starting today and running through Sunday, Valiant Comics will be setting up shop in the Albuquerque Convention Center at booth #501. There you'll find all the Valiant U stuff you could possibly want including comics, trade paperbacks (and hardcovers), hats, tee's and more.
If you're looking for some giveaways and signings, Valiant has you covered there too with a special appearance by Archer & Armstrong scribe Fred Van Lente. Also at the booth, the Valiant Summer 2013 Preview Edition will be handed out for free. The book gives a sneak peek at the highly anticipated Quantum & Woody #1 and will be available at the booth as long as supplies last or till the end of the show, whichever comes first.
For more info on the Albuquerque Comic Expo, or ACE, click here.
Jason's been knee deep in videogames since he was but a lad. Cutting his teeth on the pixely glory that was the Atari 2600, he's been hack'n'slashing and shoot'em'uping ever since. Mainly an FPS and action guy, Jason enjoys the occasional well crafted title from every genre.