The Wii U will have one more game on that launch date list in the form of Disney's flagship character himself- Mickey Mouse… and Oswald the Rabbit. Can't forget him.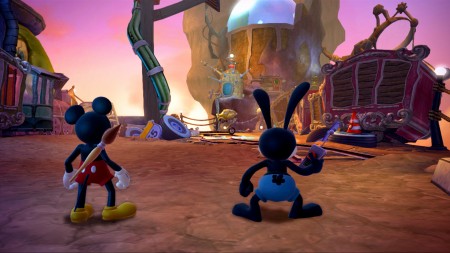 Epic Mickey 2 should be a pretty big title this Holiday, so it's a good thing then that Disney Interactive confirmed today that the game would indeed be there for the launch of Nintendo's newest console.
"It's exciting to bring Nintendo fans Disney Epic Mickey 2: The Power of Two on Nintendo's revolutionary new game system," said Disney Interactive VP and general manager of production Bill Roper.
SoI'm sure the question you're pondering right now is probably something along the lines of 'how does the Wii U pad work in the game'? The answer to that burning query? It displays a map.
Exciting! Still, revolutionary 'Wii U' special features aside, this should be a great action/platformer for fans of the mouse and just plain old solid game design. Look for Disney's Epic Mickey 2: the Power of Two on retail shelves November 23rd.
Source: MCV