The Battle Beasts will be running amok at the NYCC later this month- and they're bringing some exclusives.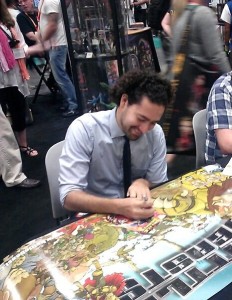 Both the Minimates line of toys and the newly released comic book will be represented at the show- complete with an artist's signing with local New York boy and cover artist Ulises Farinas.
The Battle Beasts have invaded San Francisco in the pages of IDW's comic book mini-series, and now they're invading Zoo York! Diamond Select Toys will hold a Battle Beasts signing at their booth at New York Comic-Con with Brooklyn-based artist Ulises Farinas, the artist behind the wraparound cover (and the SDCC exclusive cover) for Battle Beasts #1 from IDW Publishing. Farinas will sign free full-sized posters featuring the wraparound cover's detailed battle scene from issue #1, and will also sign Battle Beasts comics for fans at no charge. The signing will take place on Saturday from 2:00 pm to 3:00 pm at the Diamond Select Toys booth, #2156.
Aside from the autograph op, there'll be a full-on panel in room 1A06 (on the last day of the Con) loaded up with Battle Beast goodness. The panel is scheduled to cover the Minimate series (as well as other Mini lines from DST) and just where Diamond Select sees that headed. There will be questions and answers taken after the talk too, and any child (that has a 'child badge') will walk out with a special promo Battle Beasts Minimate. Neat stuff all around for fans of the property or just Minimates in general.