Sony wants (pretty much) all your digital dollars this October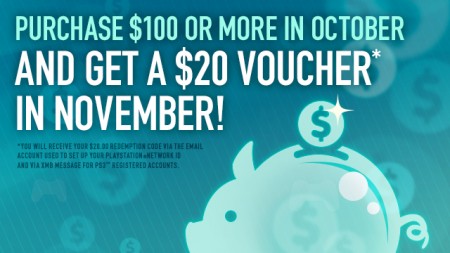 Sony is ramping up its efforts to get you to use it's much-less-popular-than-XBL online portal, PSN. There has been a literal deluge of tempting offers in recent months but now there's a pretty nifty offer where Sony will offer your $20 in credit for the PSN store if you pay a handsome $100 in the month of October. This could be $100 spent on anything on the store, even PS Plus memberships or NFL Sunday Ticket subscriptions, so you wouldn't be struggling to think of something to spend that last $5 on.
The most likely combination is a membership to PS Plus and a Day 1 Digital game, where the first would give a discount on the second, which would make up the minimum amount. After that you'd get $20 to spend on whatever you liked on the store. With a bunch of great games coming out day-and-date on the PSN, and with PS Plus turning into the killer service for Sony's console, this could be a very powerful shot across the bow in the direction of Microsoft's ship.
Source: PSBlogUS