Ever wondered what "awesome" sounds like in 5.1 Dolby Digital?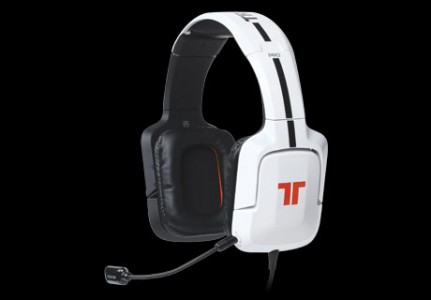 I'm a gamer and a parent. As much as I enjoy playing video games, when it comes to life's priorities, gaming unfortunately takes the back seat. One of the biggest restrictions to being a parent and gamer is finding time to play. This typically means waiting until the kids go to sleep. The obvious problem with playing games after everybody goes to bed is either the volume on the television is turned way down low, or I'm using a set of ear buds. I either have to play with the subtitles turned on, or I need to stretch a cord across the room to comfortably listen to a game with headphones. Neither situation is ideal.
You can probably guess my reaction when I got my hands on the TRITTON Pro+ 5.1 Surround Headset.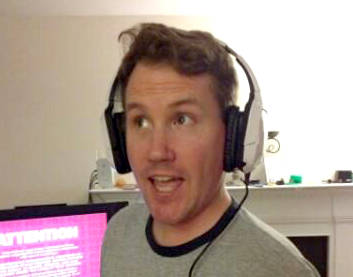 Yeah, if this picture doesn't properly convey it: the Pro+ headset is pretty amazing! Not only is it a 5.1 surround sound headset, but unlike other headsets it's compatible with both the Xbox 360 and the PlayStation 3. And even better than that: it's REALLY easy to set up, and comes with all of the cables and attachments you'll need.
I know, I was shocked, too.
Let's get all of the fine print out of the way. The TRITTON Pro+ 5.1 Surround Headset is a premium accessory, and it's going to set you back about $200. For some that may seem like a lot, but like I mentioned, everything you need to play on either an Xbox 360, a PlayStation 3, or both, is included. You don't have to worry about extra hidden purchases, batteries, etc.
The box is massive, almost as big as a retail Xbox or PlayStation box. In side the box you'll get the headset, which feels durable and strong, yet is confortable, and doesn't feel heavy when sitting on your head. There are several adjustable points which make fitting it comfortably on your head very easy.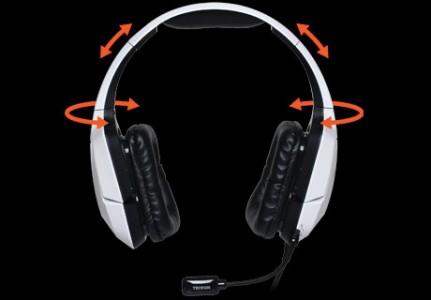 The headset also comes with a detachable, twist-snap microphone attachment for in-game chatting. There are also adapters for both the Xbox 360 and the PlayStation 3.
If you're a gamer like me, with all of the current consoles, it's nice to purchase an accessory, like a headset, that works with as many systems as possible. The TRITTON Pro+ 5.1 Surround Headset is!
While the headset is completely compatible with both systems, I found it easiest to use with the Xbox 360 than the PlayStation 3 — "easier" in that it required simply plugging in a cable without requiring system setting adjustments.
I won't lie to you, there are a couple of steps that you must take if you want to switch between using the headset and normal speakers, or when switching between consoles. But setting it up is pretty easy for those who have even the slightest bit of console setup know-how. Your parents and younger siblings, however, may find it a bit too cumbersome to switch between.
Here's all you really have to do to set up and use the TRITTON Pro+ 5.1 Surround Headset. Everything plugs into a decoder box. The headset plugs into one of the jacks on the front and the console of your choice plugs into the back. If you're only using the headset to play games, and not chat with friends, the only cable you really have to worry about is the optical cable, which connects from the decoder box to the back of your Xbox 360 or PlayStation 3. If you have an original model Xbox 360, an adapter is included to help you out. Very nice touch!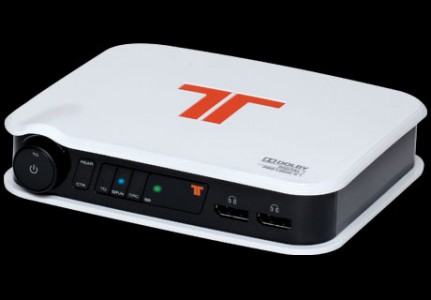 Once you have the optical cable connected, you'll need to navigate to the sound settings of the respective console and make sure that Dolby Digital 5.1 is enabled for the Xbox 360 (which it always is, even when I'm playing through the TV speakers) and for the PlayStation 3 you'll need to make sure that the optical output is set for the sound with the appropriate type of surround sound decoding (again Dolby Digital 5.1 is a safe bet to go with). That's really it!
If you want to use the headset for in-game chat, as well as in-game surround sound, you'll head to attach the USB cable from the back of the decoder box to an available USB port on the PlayStation 3 and set the TRITTON Pro+ in the PlayStation 3's headset settings. For the Xbox 360, you'll only need to plug the Xbox 360 headset "puck" into the bottom of your audio controller and plug the other cable into the audio controller, which is found on the headset's cord. The controller pad allows you to control the headset's volume, including muting and/or turning down the volume for in-game chat.
When you're done using the headset, if you have family like mine, you'll need to reset everything back to where it was so that my wife and kids don't have problems watching a Blu-ray or movie on the Netflix app when you're not around. As I mentioned earlier, the Xbox 360 was the easiest to set up and take break down. Simply turning off the decoder and unplugging the optical cable was all I needed to do. For the PlayStation 3, it's important to remember to go back in and return the audio setting back from the optical output to whatever other output you used (in my case it was HDMI).
Now that you know how easy it is to set up, the next question is: how does it sound?
Amazing!
Not only does the music and sound effect have a distinct direction it's coming from (or it's tremendously more obvious when it is), the sound is much richer and you can really hear the various layers. I tested a variety of different games including Modern Warfare 3, Battlefield 3, Forza Motorsport 3, Gears of War 3, (lots of 3's, eh?) and Dead Island. I even tried DVD films like Star Wars: Return of the Jedi and the original Matrix, as well as DVD films like Monsters Inc. and Avatar. All of the games and films I tested sounded fantastic!
I can't recommend this headset enough. It's a premium product and it works really, really well!
Final Thoughts:
If you're a parent like me, you have to wait until the kids are in bed to play games. The TRITTON Pro+ 5.1 Surround Headset allows you to listen to in-game, and in-chat audio without disturbing a sleeping household, all in glorious 5.1 surround sound! The best part is that it's compatible with both the Xbox 360 and PlayStation 3, and include all necessary adapters.
For $200, it's a premium accessory, but if you're looking for an very nice headset, that works on a multitude of systems, the TRITTON Pro+ 5.1 Surround Headset is a must buy! Your ears will thank you for it!