A look at the other shooter Crytek is showing at the Eurogamer Expo.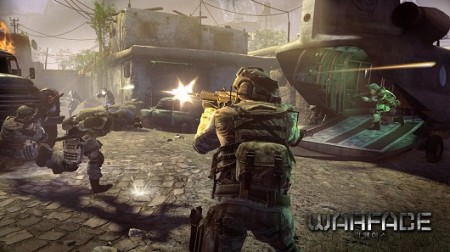 While Crysis 3 is on show, Crytek brought their other first person shooter to the Eurogamer Expo for everyone to have a play with.  The Trion published free to play shooter Warface.
I got the chance to try to PvP version of the game, which took the form of a team deathmatch scenario, with the highest score at the end of the 10 minute time limit winning the match.  You start off with a set of 5 items – big gun, hand gun, grenade, med pack and defibrilator – and you can switch the gun you have for other guns lying around the map.  These guns are either just placed there or dropped by other players.
As you might expect from a Crytek game, the graphics are gorgeous.  The match we played took place in some sort of cargo hold, with steel crates and wooden boxes lining the corridors.  The various guns on offer pack a serious punch and if you've ever played a shooter before, you'll feel right at home.
You can climb on any scenery that is realistically climbable, and there are also certain areas where you can climb by getting a team mate to give you a boost.  Team play is extremely important in this game if you want to get anyway.
Warface doesn't seem like anything revolutionary or remarkable at this stage, but the game isn't in beta yet, and there are still a couple of kinks to work out so it's perhaps a bit early to judge.  But it seems like a solid, well built shooter at the very least and the controls are responsive, and even if you're not traditionally great at shooters (like me) you can hold your own fairly well.
If you want to find out more and reserve your username for the forthcoming beta, you can check out the official Warface website.