Codemasters takes the F1 license in a different direction.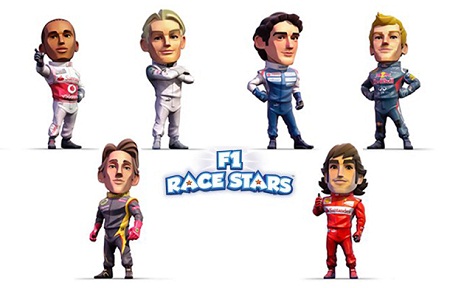 Codemasters have had the F1 license for a couple of years now, and have created some realistic and, at some times, very difficult games.  In a sort of spin off from the main F1 games, F1 Race Stars takes things in a different direction.
F1 Race Stars is actually a kart racing game, taking the F1 drivers you know and giving them and their cars a cartoonish makeover and a charming personality about them, with the drivers on the grid all pointing and gesturing to each other.  The game has all the usual kart racer fixings, with winding, colourful tracks, various weapons and speed boosts, which give you a bigger boost if you drift through them.
The weapons are an interesting bunch, too.  There's the usual projectile weapons, which can be fired forwards or backwards, and there's mines and turbo boosts.  There's also a homing bubble that traps the driver in front of you in the air for a few seconds, and also confetti which obscures the screen.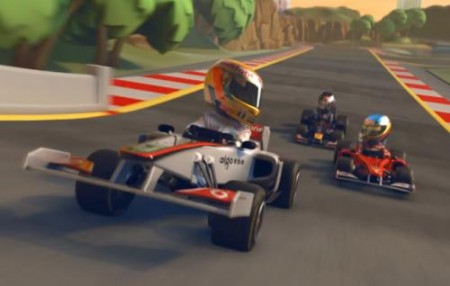 The weapons actually damage opposing cars as well, and if you take too much damage, your car will have bent axles and wobble around, smoking.  You will also slow down quite noticeably, and will have to find the nearest pit area to fix your car and get back up to speed.
The tracks themselves aren't restricted to just standard racing circuits, either.  You will find yourself driving through towns with cobbled streets, bridges and a huge castle complete with drawbridge.  It's odd to see F1 cars driving through such environments, even if it is all colourfully cartoonish.
Overall, F1 Race Stars is shaping up to be a decent kart racing game, with fun power ups and long, sweeping tracks.  It's not the most ground breaking game in the field, but it's an enjoyable, nippy game and might be worth a look if you want to see the likes of Lewis Hamilton and Sebastien Vettel doing something a bit different.
F1 Race Stars is in development for Xbox 360, PS3, Wii U and PC and is scheduled for release in November 2012