A look at some of the games making an appearance at the Indie Arcade this year.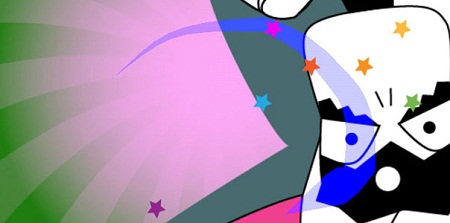 The Indie Arcade at this year's Eurogamer Expo is the biggest in the history of the event, with a huge number of excellent games on show.  Here's the first part of our round up of what's on offer.
Buddha Finger is the first game from Lady Shotgun, a team with a huge amount of experience.  It's a beat-em-up style game where you have to hit a series of numbers that appear on screen in order to defeat your opponent.  Some numbers will require you to trace a path on the screen to connect them, spin the numbers in the indicated direction or tap them several times in quick succession.
The game has a fun storyline which made me chuckle, and has an art style that reminds me a little of the WarioWare games.  At the end of each level, you're awarded a grade for you're performance.  The grading is a little harsh, but will likely be tuned down a little before release according to the developers.  But this game is fun and addictive and is one to watch.
Buddha Finger is due out in October for iOS.
Sentinel (Matthew Brown)
Developed by sound designer Matthew Brown, Sentinel is a tower defence game with a musical twist.  The aim is to prevent waves of viruses from destroying your system.  They follow a designated path, with you placing various defences to stop them, such as lasers, artillery and anti air defences, using the credits you earn from either stopping viruses or clicking the various shards that drop down the screen.
The twist is that, rather than simply firing at the viruses when they are in range, a Lumines style bar moves across the screen in time to the music.  The defences will only activate when the bar passes over them, adding another layer of strategy to the game.  You also have a limit to how many defence structures you can have on screen at once, but you can chop and change if you have the funds.  It's an interesting and well designed game that looks very promising.
You can check out some alpha gameplay by clicking here.
The curiously named BaraBariBall is a retro looking sports game for 2 or 4 players.  You choose a character, then choose one of the many arenas and off you go.  The idea is to score points by throwing a ball into the water on your opponent's side of the arena.  If you do that, you gain a point, but you lose a point if you fall into the water.
When your opponent has the ball, you can fight them to try and take it away.  You can jump around as well, but you're limited to how many times you can jump by the number of orbs around your character.  Staying on the ground recharges those orbs.  The game is fast, simple and a huge amount of fun.
You can find out more at the BaraBariBlog