Dark Horse Comics is relaunching the Guillermo Del Toro helmed vampire book The Strain with a motion comic hosted by Geek & Sundry.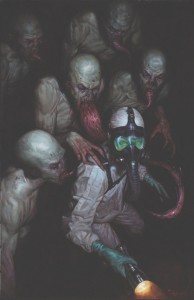 The book is leading the way on Felicia Day's network for the new Fall season of programming. If you've never read, you're in for a treat as The Strain is one ripping vampire tale that has a brand new take on the classic blood-sucker.
Written and created by Guillermo Del Toro and Chuck Hogan, The Strain follows what happens after an airliner carrying some mysterious cargo goes dark on the runway at JFK.
When a Boeing 777 lands at JFK International Airport and goes dark on the runway, the Center for Disease Control, fearing a terrorist attack, calls in Dr. Ephraim Goodweather and his team of expert biological-threat first responders. Only an elderly pawnbroker from Spanish Harlem suspects a darker purpose behind the event-an ancient threat intent on covering mankind in darkness.
Geek & Sundry creators Felicia Day, Kim Evey, and Shari Bryant have executive produced the 'book' and have done a pretty great job of it. I read The Strain a while back and seeing it in motion really does add a lot to it and makes it feel fresh again.
Enjoy the show, and don't forget to check out Geek & Sundry's YouTube channel for more cool stuff.
Jason's been knee deep in videogames since he was but a lad. Cutting his teeth on the pixely glory that was the Atari 2600, he's been hack'n'slashing and shoot'em'uping ever since. Mainly an FPS and action guy, Jason enjoys the occasional well crafted title from every genre.