Dark Horse Comics is relaunching the Guillermo Del Toro helmed vampire book The Strain with a motion comic hosted by Geek & Sundry.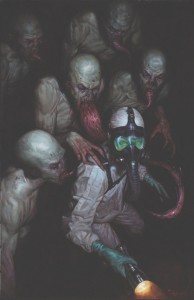 The book is leading the way on Felicia Day's network for the new Fall season of programming. If you've never read, you're in for a treat as The Strain is one ripping vampire tale that has a brand new take on the classic blood-sucker.
Written and created by Guillermo Del Toro and Chuck Hogan, The Strain follows what happens after an airliner carrying some mysterious cargo goes dark on the runway at JFK.
When a Boeing 777 lands at JFK International Airport and goes dark on the runway, the Center for Disease Control, fearing a terrorist attack, calls in Dr. Ephraim Goodweather and his team of expert biological-threat first responders. Only an elderly pawnbroker from Spanish Harlem suspects a darker purpose behind the event-an ancient threat intent on covering mankind in darkness.
Geek & Sundry creators Felicia Day, Kim Evey, and Shari Bryant have executive produced the 'book' and have done a pretty great job of it. I read The Strain a while back and seeing it in motion really does add a lot to it and makes it feel fresh again.
Enjoy the show, and don't forget to check out Geek & Sundry's YouTube channel for more cool stuff.