The Collector's Edition of NetherRealm's upcoming DC Comics fighter Injustice: Gods Among Us has officially been unveiled and it's packing some pretty cool extras.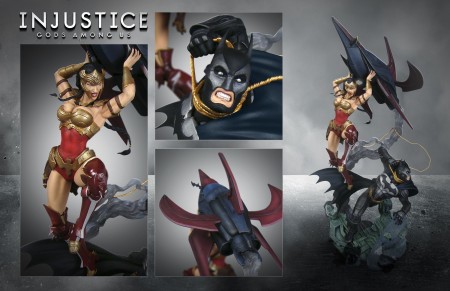 Yes, that's one big honkin' statue, but as a fan, it's the digital extras that interest me more.
· Exclusive DC Collectibles statue featuring iconic characters Batman and Wonder Woman, the Fortress of Solitude, and the Last Son of Krypton's escape ship

o Highly detailed statue that stands over 13" tall

o Beautifully rendered with a combination of injected and hand painted decoration

o Includes The Lasso of Truth, clear casted ice details and translucent smoke trail

· Special Collector's Edition of a brand new DC Comics series

· Digital download of DC Universe animated film Justice League: Doom

· Three exclusive skins based on Batman, Superman and Wonder Woman from DC COMICS – THE NEW 52
A 'free' copy of Justice League: Doom is a pretty cool addition and I really dig the idea of  including the 'New 52' costumes as DLC. I would've liked it even more if it was the classic uniforms, but maybe we'll see something in a general downloadable content release. Crossing my fingers for that one.
Injustice: Gods Among Us lands on retail shelves in April 2013 for the Xbox 360 and PS3. The Collector's Edition (which will be available only in "limited quantities") will run you $99.99 USD. A Wii U version of the standard game will also be released – no CE for Nintendo's new baby though.