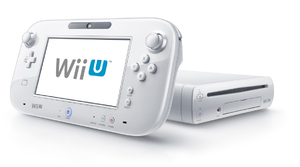 As a video game enthusiast, I'm worried about Nintendo.
The Wii U, Nintendo's upcoming video game console, is an interesting contender, but I can't help but feel that it's really lacking in a lot of areas.
Last Thursday, Nintendo held an event in New York City to provide some much-needed answers about the Wii U. The price of the system and it's release date were two huge question marks. With just over three months away from Christmas, and even less for the prime, post-Thanksgiving holiday shopping, if Nintendo was going to release this system in 2012, like they said, we would need some answers and we'd need them right now!
The Wii U will be coming out on Sunday, November 18, and there will be two different configurations. The basic package, priced at $299, will include a white system with the tablet GamePad. The deluxe package, priced at $399, will come in black, with some extras, like a charging cable for the tablet controller, and a copy of the game NintendoLand.
Nintendo gave us some answers, but they didn't give us everything, and one of the features that has me really worried is its internal storage space.
Even at its best, the space reserved for saved games, game updates/patches, downloadable content, and downloadable games, is offensively small.
How small? Well, your base model, smartphone likely has more space than the Wii U's base model, which weighs in at 8GB. The deluxe model quadruples the base model offering 32GB.
As a comparison, the Xbox 360 and PlayStation 3 offer hugely substantial 250/320GB hard drives. Microsoft offers a paltry "budget" 4GB version for the Xbox 360, but the models with the huge hard drive are the ones that sell the best.
Why does hard drive size matter? Back in 2005 and 2006, it didn't. Back then, a memory card was enough, and games only came on cartridges or discs. PC gamers were the only gamers who really had to worry about patching and updating their games. But today, developers can update and patch their games — some updates are small, but others require more space. Even the operating system that controls the console can be updated and significantly changed (see: The Xbox 360's yearly dashboard updates).
A few years ago, patches and updates were ugly words, that most gamers associated with a way for "lazy developers" to release a buggy product, in order to meet their release schedule, and then deal with bug fixes with incremental updates months later. Today, updating a game is less of an ugly term — in fact, sometimes updating a game includes extras and features that actually make the game more fun. Sometimes, updates are released based on user feedback (see: Mass Effect 3), while other updates comes in the form of downloadable add-on packs. Gone (at least mostly) are the days of useless downloadable items like horse armor — remember those days?? Today's downloadable content is much more substantial.
In addition to patches, hard drive space is used for new downloadable content and downloadable full-retail games. Gamers don't even have to go to the store anymore to be able to buy the full-version of a game. In fact, running a game from the hard drive gives a bit of a speed performance boost, especially when loading data, as the game doesn't need to check for data on a disc. Not only that, but it's also nice, for convenience sake, to not have to get up and switch discs when changing games — it's like playing multiple games on your smartphone versus having to juggle cartridges with a 3DS or Vita.
Downloadable content is a huge moneymaker for publishers and developers. If done right, it can extend the life of a game for more than a year. Look at games like Call of Duty: Black Ops, Call of Duty: Modern Warfare 3, and Battlefield 3. All of those games have had downloadable content released almost a year after their release, offering new and fresh experiences, encouraging gamers to continue playing and talking about their games. Not all of this add-on content is huge, but when you only have 8GB of storage to worry about (and a decent part of that is likely reserved for the Wii U's operating system and other important system files), you'll be constantly deleting or moving content the same way gamers did back when 20GB and 40GB hard drives were common on 360 and PS3 systems. There's a reason why those systems went from those embarrassingly small sizes to a quarter or nearly one-third of a terabyte or storage — it's not a lot of space.
In order to help counter sales from the used game market, publishers include downloadable content for free with a one-time use code included in brand new copies. If you purchase the game used, and want to try this exclusive content, you can pay a premium price (usually $10) and download it from the console's storefront.
8GB or 32GB might be enough for the casual gamer, which is fine for Nintendo first-party games, but for third-party publishers who want to make money by selling downloadable content it's not a lot of space. And like just about every Nintendo system before them, they're probably doing to go with systems like the next Xbox and PlayStation 3, as those will likely have at the very least 320 GB of storage.
Nintendo is still caught in this old-school mentality where they continue to do things their way, which might be fine for awhile, but seeing as the system doesn't seem to be any more powerful than current Xbox and PlayStation models, the only advantage the system has is a tablet-style controller and the Nintendo brand name. Some may say those are enough — hell, the Nintendo brand alone is more than a enough.
The Wii U certainly isn't carrying the amount of weight, surprise, or interest that the original Wii did. In fact, Reggie Fils-Aime couldn't even give the crowd the lauch date titles, outside of NintendoLand, which comes bundled with the system. Instead he gave us a "launch window" which runs from November 18, 2012 through the end of March 2013. That's more four full months to wait for one of many of the games they showed off.
Hmm…
I just don't know Nintendo. You've pulled it off before with the original Wii, but shockingly struggled with the Nintendo 3DS. As a gamer, who enjoys playing games no matter what the console brand, I am hoping for the best, but with Microsoft and Sony still releasing awesome games on current consoles, I fear that Nintendo will really their have their work cut out for them when the next Xbox and PlayStation launch.