The newest piece of gaming tech from MadCatz' Cyborg Gaming line is also one of the best keyboards you're ever likely to use.
The S.T.R.I.K.E. 7 (which I'm just going to shorten to 'Strike' for purposes of laziness) is easily the most impressive keyboard I've ever had the pleasure of using. Looking back on my gaming history, it always seemed to me that a good mouse was all that really mattered. Keyboards? Well, one is as good as the next as long as it works right?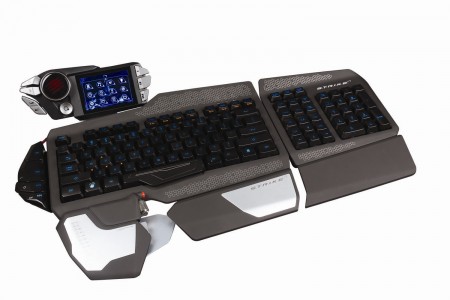 Turns out, no. Not right. Although I have reviewed a few keyboards over the years, none of them really seemed like anything all that special, not really… that little streak ended when I got to take a gander at MadCatz' Strike. This thing is… yeah.
There are a ton and a half of features on the Strike- if you've thought of having a board that had something, anything- this probably has that something and/or anything you were pining for. In fact, when I was opening the box (and even that's awesome BTW) and reading through the documentation, I was running through a list of things in my head that I was looking for. The Strike has all of them and my experience went a lil' something like this: "Hmm, yeah that's really cool, but does it have… oh it does." Rinse, repeat.
So needless to say after an intro like that, there's gonna be a lot to cover in this review. So sit right back friends, grab a soda or a coffee, and enjoy; because I'm breaking this bad boy down feature by feature.
The Keyboard
The most base functionality of the Strike is, of course, the actual keyboard. Apparently not an afterthought  (and it could have easily been), the keyboard on the Strike is as solid a play and typing surface as I've recently used.

With a good amount of feedback and sensitivity, you'll definitely know when you've hit a key. Also, unlike in some gaming keyboards I've used, doing day to day tasks (you know, like, typing?) is also easy and headache free.
There aren't any weird setups and awkward designs on the actual typing surface, which is a very good thing. I've worked with keyboards that had both, and while they may have been great for playing a game, they were far from it for anything else. Which is not to say that this is perfect, the keys may not be as clicky as I normally like for example, but the S.T.R.I.K.E. 7 has no glaring issues at all.
One more really cool thing about it and we'll move on- there are three sets of interchangeable WASD and arrow keys. Three! You get basic (natch), directionally notched (natch-notched), and rubberized (rubber-rotched?). The rubberized ones have an orange bumper on the side of the key that indicates whichever direction you'll go in game when you press it. So 'W' has a bumper on top, for example. These were my faves of the bunch.
The Design

The Strike is a modular keyboard, which basically means that you can arrange the components any way you see fit; and (as I said above) even swap out keys as you see fit. You can do a lot more than that though.
Say you don't want a number pad. That's okay, just fix the Strike so you just have a compact basic board- which you can then outfit with any of the included accessories like the adjustable palm rest or touch screen (yes, it has a touch screen- more later). It's like the Borg of keyboards- fully adaptable to any situation.
The Strike is also almost completely texturized with a grippy coating that felt great while playing or typing. Its wires are all fabric-covered, and it has a metal frame and feet too, so you're probably not going to find it all that easy to break in half- unless you're one of those 'will it blend' guys… cause they'd probably find a way. The frame serves a pretty important function as well because, since we're talking modular here, the Strike has to be screwed together to be locked into place. In fact, all the components can be screwed and wired (not as hard as it might sound- we're just talking plug and play here, not shop class) into whatever configuration you like.
The Accessories
Much of what makes the Strike so special are the various pieces of kit that can be attached to it. We've only touched on them so lets take a look at those, starting at the bottom.
At the base of the unit (or not, depending on how you want it) is a series of three palm rests. On the number-pad and first half of the keyboard are a pair of basic rests. There do have some added functionality though as they can be pulled out and extended to several lengths to best suit the size of your mitts comfortably.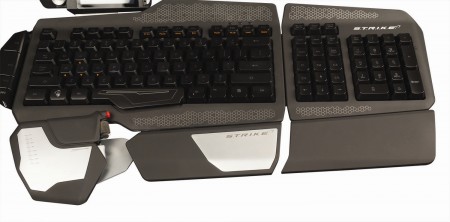 The third one is where 'cool' comes in (as far as the bottom of the board goes, but there's way cooler stuff to talk about later). This rest has an added action button and a thumb wheel which can be used for all kinds of stuff. And as I said, the Strike is fully customizable, which means that if you want to add this 'rest on to the bottom of the number pad (separately from the main body of the device), you can.

Off to the left of the main body (but again, this could go anywhere you want) is a four switch mini-panel. This dongle has some nice heavy plastic keys that serve as macros for whatever you like.
They're easy to use and, during heavy gaming, come in handy in a number of ways. Another nice thing about this is that these four keys are nearly impossible to hit by accident. If you're anything like me, that's a good thing indeed.
Now all that's great, really, but it's the final feature of the Strike that's the most impressive and gives the biggest 'wow' moment. I'm talking about the Venom touchscreen. And oh what a feature it is.
Venom
Not just the name of one of Spider-Man's most iconic villains, far from just the title on the label of Bane's strength enhancing mega-drug; Venom is quite possibly the coolest thing I've ever seen on a gaming peripheral. Ever.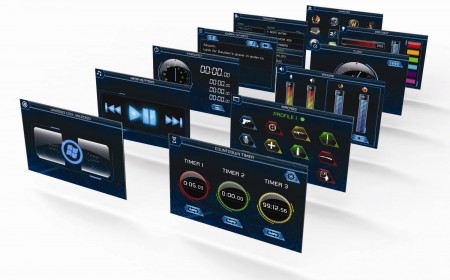 Venom is a small, touchscreen monitor that attaches to the top of the keyboard and basically serves as your hub for, well, everything. It's more than just a screen though because it's almost like a whole 'nother piece of equipment.

Moving around this little guy, we find a trio of mode selection switches on the right side; while the left has volume up/down, mute, and mic muting. The face houses both the screen itself and a 'home' button. It's when you press that one that the fun really starts.
If you like customizing, welcome to heaven.
From Venom, you can access everything from teamspeak and in game (typed) chat to a notepad and a full suite of  stopwatches, timers, and more. There's even a simple panel for controlling iTunes (or whatever). Topping off the software package is the impressive Launcher.
The Launcher consists of three rows of four empty slots. Using the incredibly easy profiler software (on your desktop), you simply click the program you want the Strike to open, then the slot- and done. That's it. Now the Venom will have all the stuff you use the most on hand and as easy to open as tapping a screen. There's also technically more than 12 slots as you can set up to three different profiles in the software that all can be accessed with the touch of a button right from the Venom.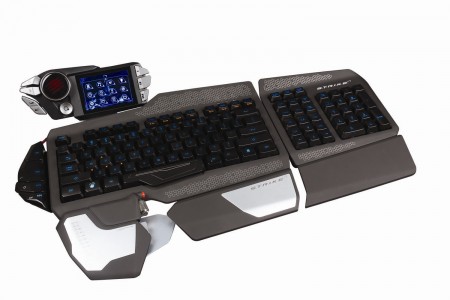 Incidentally, all of the other customizable features on the Strike can be manipulated through the Profiler as well- and just as easily. Having three completely different keyboards (complete with different colored back-lighting) is pretty awesome. I didn't find much need for that much customization, but it sure is nice knowing it's there.
Final Thoughts
I really tried to come up with something that I didn't like about the S.T.R.I.K.E. 7, but I honestly couldn't.
Yes, you do have to assemble it (but that's actually one of the high points), the keys don't 'click' at all- which certainly matters only depending on your taste/pickiness level, and the software to run the profiler needs to be downloaded… but that's about it for 'downsides'. No, there's really nothing 'wrong' with this keyboard. It's awesome in every aspect and delivers on the promise of being a capable partner to the company's excellent R.A.T. series of gaming mice (which we reviewed here).
There is one thing however, that I didn't take into account in this review and that's the price. This is one very expensive gaming 'controller', at $299 USD there's little doubt of that. I'm not going to add that in as a detraction or count it as a strike in the review, mainly because it's only a minus if that matters to you. That and I'm reviewing the hardware, not the price tag.
In the end, if you're a PC gamer who absolutely has to have the best and doesn't really care about the cost, I don't think you could possibly do much better than the Cyborg Gaming S.T.R.I.K.E. 7.