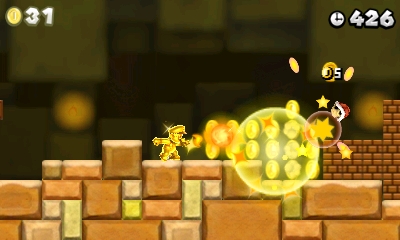 New Super Mario Bros. 2 managed to climb back to the top of Japan's software sales chart for the week ending September 9th, with 39.7K units sold, despite some pretty lackluster competition from a handful of new releases.
Sliding into  the number 2 and 3 spot on the chart were Namco Bandai's 3DS game Lost Heroes, which debuted with 32K, and Rockstar's PS3 version of Max Payne 3, with 24.2K. Overall the 3DS claimed 8 spots in the top 20, followed by the PS3 with 5 titles, the Wii with 3 titles, the PSP with 2 titles, and the DS and Vita with 1 title each.
On the hardware side of the charts, Nintendo's 3DS easily held onto the top spot with 64K units sold (down from 74K in the prior week). Sony's Vita retained its number two spot, but fell from 50K units to just 14K for the week.
The full Japanese hardware and software sales charts for the week ending September 9, 2012 are as follows:
Hardware
|System | This Week  | Last Week  | Last Year  |     YTD    |  Last YTD  |     LTD     |
----------------------------------------------------------------------------------------
| 3DS # |     64.159 |     74.293 |     49.076 |  3.059.106 |  1.776.605 |   7.341.249 |
|  PSV  |     14.106 |     50.070 |            |    519.554 |            |     959.540 |
|  PS3  |     11.813 |     12.433 |     64.786 |    777.991 |    917.300 |   8.414.376 |
| PSP # |      9.065 |     10.266 |     25.404 |    557.689 |  1.451.576 |  19.287.073 |
|  WII  |      6.958 |      8.680 |     10.743 |    385.611 |    478.925 |  12.548.832 |
| NDS # |      1.269 |      1.488 |      4.890 |     59.237 |    575.635 |  32.867.723 |
|  PS2  |      1.078 |      1.098 |      1.386 |     42.152 |     55.954 |  21.816.259 |
|  360  |        815 |        875 |      1.219 |     48.512 |     79.564 |   1.584.557 |
----------------------------------------------------------------------------------------
|  ALL  |    109.263 |    159.203 |    157.504 |  5.449.852 |  5.335.559 | 104.819.609 |
Software
01./04. [3DS] New Super Mario Bros. 2 <ACT> (Nintendo) {2012.07.28} (¥4.800) – 39.708 / 1.076.912 (-29%)
02./00. [3DS] Lost Heroes <RPG> (Bandai Namco Games) {2012.09.06} (¥6.280) – 32.504 / NEW
03./00. [PS3] Max Payne 3 <ACT> (Rockstar Games) {2012.09.06} (¥7.770) – 24.264 / NEW
04./08. [NDS] Pokemon Black 2 / White 2 <RPG> (Pokemon Co.) {2012.06.23} (¥4.800) – 21.592 / 2.729.192 (-26%)
05./01. [PSV] Hatsune Miku: Project Diva f # <ACT> (Sega) {2012.08.30} (¥7.329) – 18.428 / 178.020 (-88%)
06./00. [PSP] Lost Heroes <RPG> (Bandai Namco Games) {2012.09.06} (¥6.280) – 15.650 / NEW
07./00. [PS3] Gekiatsu!! Pachi Game Tamashi Max: Evangelion 7 x Seimei no Kodou <TBL> (Fields) {2012.09.06} (¥7.329) – 14.094 / NEW
08./11. [3DS] Tousouchuu: Shijou Saikyou no Hunter-Tachi Kara Nigekire! <ACT> (Bandai Namco Games) {2012.07.05} (¥5.040) – 13.060 / 122.999 (-17%)
09./02. [3DS] Devil Summoner: Soul Hackers <RPG> (Atlus) {2012.08.30} (¥6.279) – 12.589 / 81.954 (-82%)
10./10. [WII] Dragon Quest X: Mezameshi Itsutsu no Shuzoku Online # <RPG> (Square Enix) {2012.08.02} (¥6.980) – 11.812 / 538.547 (-28%)
11./03. [3DS] Senran Kagura Burst: Guren no Shoujotachi <ACT> (Marvelous AQL) {2012.08.30} (¥5.980) – 9.513 / 78.597 (-86%)
12./13. [3DS] Taiko no Tatsujin: Chibi Dragon to Fushigi na Orb <ACT> (Bandai Namco Games) {2012.07.12} (¥5.040) – 8.800 / 197.806 (-22%)
13./15. [3DS] Brain Age: Concentration Training <HOB> (Nintendo) {2012.07.28} (¥3.800) – 7.973 / 146.663 (-25%)
14./06. [PSP] Mobile Suit Gundam Age: Universe Accel / Cosmic Drive <RPG> (Bandai Namco Games) {2012.08.30} (¥5.980) – 7.309 / 43.212 (-80%)
15./16. [3DS] Kobitodzukan: Kobito Kansatsu Set <ETC> (Nippon Columbia) {2012.07.26} (¥5.040) – 6.659 / 85.267 (-32%)
16./00. [PS3] Call of Duty: Modern Warfare 3 – Dubbed Edition (Bargain Edition) <ACT> (Square Enix) {2012.09.06} (¥3.990) – 6.353 / NEW
17./17. [WII] Wii Sports Resort with Wii Remote Plus # <SPT> (Nintendo) {2010.11.11} (¥5.800) – 6.352 / 1.066.458 (-23%)
18./07. [PS3] Sengoku Basara HD Collection <ACT> (Capcom) {2012.08.30} (¥4.990) – 6.339 / 42.029 (-82%)
19./14. [WII] Just Dance Wii 2 <ACT> (Nintendo) {2012.07.26} (¥5.800) – 6.329 / 166.041 (-40%)
20./00. [PS3] Ratchet & Clank Collection <ACT> (Sony Computer Entertainment) {2012.09.06} (¥3.980) – 6.195 / NEW
Source: NeoGAF