Sometimes, the internet creates interesting opportunities.  I recently bought a Griffin Stylus Pen from Target for use on my Nexus 7 tablet.  However, after a month, the rubber tip was already showing wear and tear, even to the point of peeling.  Obviously, I'm not trying to write on paper with the stylus, nor was I using it as a dart, so this damage after a month was a bit concerning.  Numerous people online tried to recommend a plethora of Stylus pens to me to try and the people at Griffin did contact me to try to work something out with this pen.
However, a company unknown to me until recently called LYNKTec contacted me about their line of stylus pens and even sent some my way to try out.  The three stylus pens (see below) they sent me are all meant for various different uses, which was a great way to see just which one I'd like the best as a consumer.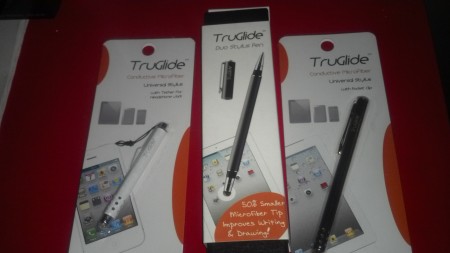 The unique feature about the LYNKTec line of Stylus pens is that, unlike many other stylus pens on the market,  the tips are made out of a conductive metal like microfiber rather than rubber tips. This prevents the peeling wear and tear issues of the rubber, though it does make it prone to being caught into fabric and such if you are not careful with the pen.  The Microfiber also feels a lot more smooth on the touch screen surface, in some instances gliding across the screen with more fluidity than my fingers would.  I was even able to get the pull screen on top of my Nexus 7 to come down with no issues, a problem with the current leather case I am using on the device.
Another amazing thing you'll notice about the LYNKTec Stylus Pens is that they are incredibly light weight.  In comparison with other Stylus pens I've tried, the two Universal stylus pens were incredibly light, which allows for even more maneuverability on your touch screen.  The DuoStylus pen, while not as light as the other two pens, was still considerably light weight given its size and the fact its packing an ink pen along with a stylus.
The mini pen, as you can see in the picture on the left, while as good as the other pens, seems better suited for an iTouch than using on a tablet.  The pen itself is smaller in length than the others, but does feature a storing ability that comes in the way of a tether that fits perfectly into the headphone jack.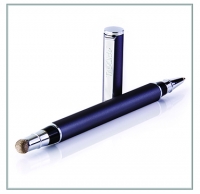 The Duo Stylus Pen is by far my favorite of the bunch.  As someone who is constantly switching around from working on my tablet, to writing something down on paper (for school for instance) this is a life saver.  This came in exceptionally handy during my Fantasy Football draft last weekend, as I was able to quickly research players on my tablet and make marks on my draft magazine in pen. If only LYNKTec could promise me a Fantasy Football victory or two. 🙂
At first, I was a bit skeptical about these devices, as the packaging advertises them for iDevices.  For those who know me, you'll know that I've never been a big fan of Apple products and was a bit worried that these Stylus pens were catered for the iPad crowd.  Its safe to say however, that those fears have been put to rest as I tested all these pens out on both a Nexus 7 and a Kindle Fire.  Both were receptive to the pen and worked beautifully.
You'd also think that something that works so elegantly would cost a pretty penny; not the case.  On the company's online store, you can see that the Stylus Pens are comparable at price to others available in the stores.  The Universal Stylus Pens retail for about $15, while the Duo Pen runs for $40.  If you are like me however, the Duo Pen is defiantly worth the extra splurge.
FINAL THOUGHTS: Do you need a Stylus Pen?  Then you should seriously consider the devices offered from LYNKTec. I was pleasantly surprised with every aspect of this pen, from using it to write notes, to playing Boggle or Spirits from the recent Android Indie Bundle pack.  Seriously consider this company in your Stylus Pen search!
More info can be found here: https://www.lynktec.com/