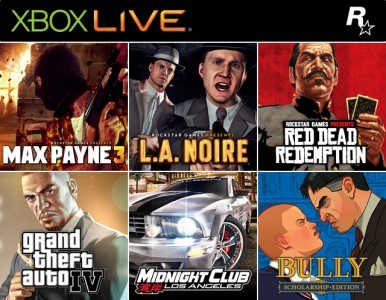 Psst, over here!  Yeah, you.  You looking for some cheap DLC?
Well, Xbox 360 owner, you are in luck!
Rockstar is having a sale on DLC for some of it's very popular titles over Xbox Live for this week only!  Titles such as GTA 4, Bully, the horrible game LA Noire and even Max Payne 3 all have DLC on sale anywhere from %38 to %50 off their typical spacebuck … sorry, MS points prices!
So for those willing to suffer through one more episode of Cole Phelps, or perhaps never got around to The Ballad of Gay Tony, here is your chance for some cheap DLC for a batch of (mostly) awesome games.
Original Source: Rockstar Games News Wire
The kid said, "Get ready cause this ain't funny My name's Mike D. and I'm about to get money." Pulled out the jammy aimed it at the sky He yelled, "Stick 'em up!" and let two fly Hands went up and people hit the floor He wasted two kids that ran for the door "I'm Mike D. and I get respect Your cash and your jewelry is what I expect"