Oh, I love a good sale!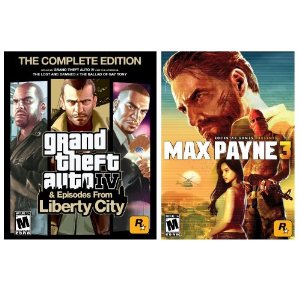 Maybe you forgot your friend's birthday and you need something quick. Or maybe you're just a cheapskate like me. Either way, have I got a deal for you! Right now, you can get a digital pc bundle containing both the complete edition of Grand Theft Auto IV and Max Payne 3 for the killer price of just $24.99. Insanely cheap, instant delivery – where could you go wrong? As with all Amazon deals, chances are this price won't last, so if you're hot for this deal, don't think too long. Want to make sure the games don't suck before buying (aren't we a diva?) – just click through to read full Brutal Gamer reviews on both Max Payne 3 and Grand Theft Auto IV.
Handy link to Max/GTA bundle on sale. You are welcome.