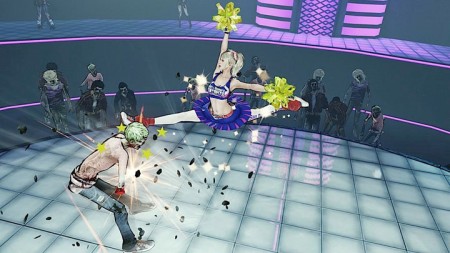 Over the weekend at the "Lollipop Chainsaw Summer Appreciation Event" in Japan (which was totally a real event, and not just something that I made up because of my hedro-man-crush on Suda 51), Kadokawa Games CEO Yoshimi Yasuda announced that Lollipop Chainsaw has shipped over 700,000 units worldwide, making it Grasshopper Manufacture's best-selling title ever.
Prior to Lollipop Chainsaw, the first No More Heroes was Grasshopper's king of the software hill with an estimated 500K copies shipped. Shadows of the Damned was even further behind with an unconfirmed 100K, and the completely awesome cult-classic Killer 7 was so low that nobody bothered to even estimate it.
Having recently played (and Platinumed) Lollipop Chainsaw, I'm glad to see that the title overcame the negative reviews that it got from some outlets in the gaming press. Initially I found the game to be a bit off-putting, as discussed in the Brutal Gamer hangout, but then later grew to really appreciate the title's role reversal aspects.
Lollipop Chainsaw has not replaced the No More Heroes series as my favorite Suda 51 IP, but it certainly pushes Shadows of the Damned even further down the list.
Source: Andriasang, Destructiod