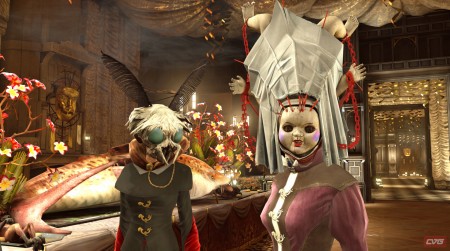 Bethesda released some new Dishonored screenshots today, and they are… interesting?
Okay, freaking disturbing as hell might be a more accurate description.
With that said, I dare you to find a nicer looking video game screenshot that features a woman wearing a upside down baby-in-chains headdress/mask, another one in a moth? mask, and a table with what appears to be a giant fish and a dead monkey on it.
The good news is that if you make it past that one the rest are much less creepy. Check them all out in the gallery below, and look for Dishonored on October 9th in the US and on the 12th in Europe.