G5 Entertainment brings you Bigfoot: Hidden Giant, a hidden object adventure game that will keep you guessing from the mysterious beginning to the explosive finish.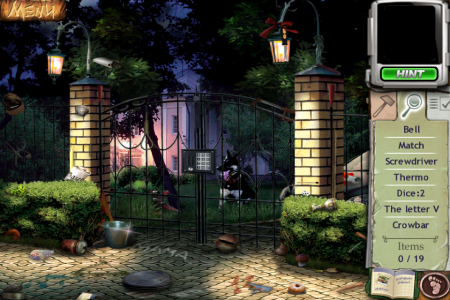 Fans of the hidden object adventure have a friend in G5 Entertainment, as they are known for providing a variety of games in the genre for all kinds of mobile platforms. Their newest entry, Bigfoot: Hidden Giant, mixes challenging object lists with a genuinely unpredictable storyline.
You ply as Linda, a take charge type who decides the recent Bigfoot sightings in her area need a thorough investigation. Like most hidden object adventures, the game follows a pattern of story scenes mixed with object finds, with a few mini game puzzles here and there. The storyline itself is an interesting one. There are suddenly frequent sightings of Bigfoot in an area with a new chemical plant, and questions are not being answered. As Linda dives deeper into her investigation, things take a dangerous turn as she tries to uncover who is behind the mysterious goings-on.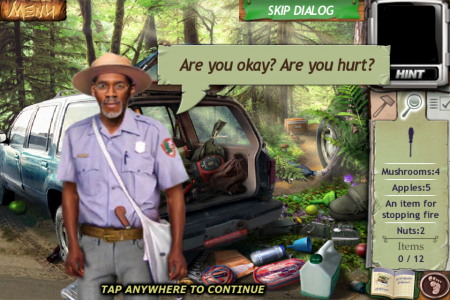 The object finds in Bigfoot: Hidden Giant involve a list of items you'll need to complete a task that advances you in the game. Generally, the objects you need to find will be hidden across several rooms or areas, and you often won't know that another room is nearby until you poke around a bit. Added to this, some of the items will be hidden under other items. Since poking around is necessary in this game, you aren't penalized for just doing a lot of clicking around. Many of the items are quite challenging to find, and there isn't any way to change difficulty settings. However, there is a hint option that fills up over time that can be used if you do get stuck.
Some of the objects you find will turn out to be usable in the game. These will be placed into a tools tab, and as you advance in the story you'll be able to use them to do things like pick locks, disable alarms, and open containers. Figuring out which items to use and how to use them is part of the puzzle with Bigfoot: Hidden Giant. At times, using the right objects will lead you into a mini game puzzle that you have to solve to advance. These range from putting pieces of objects back together to finding the right combination to open an item. Most of these are skippable after a time if you get completely stuck, but there are a few that you just need to figure out if you want to advance.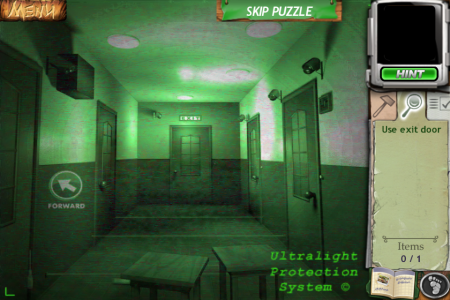 Bigfoot: Hidden Giant has pretty decent graphics and sound for a mobile game. For the most part, the characters are well-voiced and the environments are vibrant and colorful. There were a few cases where the objects to find were difficult to pick out on a small screen, but for the most part when you can't find something it is because it is cleverly hidden.
Final Thoughts:
Bigfoot: Hidden Giant is a well done hidden object adventure that will keep fans of the genre happy for hours. It is very easy to pick up and play, whether you have just a few minutes or a few hours to play. You can't adjust the difficulty level, but casual players will find that the hint system will help them out if they truly get stuck. Between hidden objects, snapping pictures, figuring out the right combinations of tools to use, and challenging mini games, Bigfoot: Hidden Giant is a game that gives you a lot of variety if gameplay with an interesting storyline to boot.