We're chatting it up with the Lead Designer for Darksiders II: Haydn Dalton!
Darksiders II hits store shelves in just a couple of days, and I had the privilege to chat with designer Haydn Dalton about the game, the industry, and more.
[Troy Benedict, Brutal Gamer Features Editor] Darksiders II will be on store shelves in less than two weeks! Congratulations! It must be very exciting knowing that people will be playing the game very soon! What is life like for the good people at Vigil Games in the weeks prior to a game's launch?
[Haydn Dalton, Vigil Games, Lead Designer for Darksiders II] During the run up to release, it's always an exciting, and slightly nervous time for us. Everyone is coming down from the pressures of finishing the game, and now, for all to see, their efforts are going to be viewed, scrutinized in detail, and written about throughout the world. It's a very satisfying time though, especially when you walk into a store, see a TV advert or somebody playing and enjoying it, these things make it all worthwhile.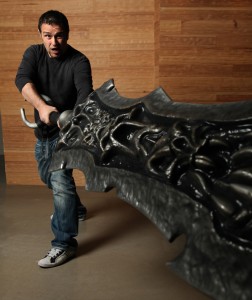 [TB] What does a lead designer do? Can you walk us through a day in the life of Darksider II's Lead Designer Haydn Dalton? What are some of the tasks that most people wouldn't expect to be handled by a lead designer?
[HD] That's a hard question, because the role of a Lead Designer varies drastically from company to company. My role on [Darksiders] and [Darksiders II] was more like a Design Director role at most other places. I help come up with the all the base systems and infrastructure of the game, and then work with the different disciplines to get the designers what they need, to create the game we're trying to make. Most normal days – certainly during full production – are about guiding what is done, and how it's being done. I get involved in everything from player control to which actors are put forward to do the [voice overs] for the game. It's a very fulfilling role for me personally, as I love to work with the different disciplines, seeing all the individual aspects coming together.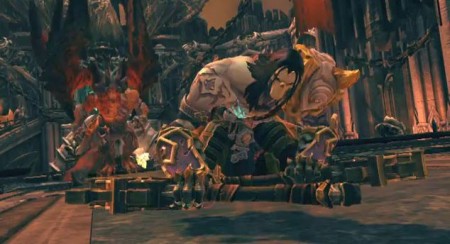 [TB]Can you talk about your experiences designing for Darksiders and Darksiders II. Is it "easier" the second time around?
[HD] It's easier because we have a template from the first, but, because we added so much too, there was a lot of learning and refinement to do. Our loot system took a lot of iterations. Getting the loot drop's frequency, content and placement right, balanced with the skilled element of the player, took a long time. I think we pulled it off though.
[TB] What are your thoughts on the current-gen consoles, specifically the Xbox 360 and PlayStation 3? Development-wise, is there still enough life and horsepower left in these two systems to last a few more years or are they starting to reach limitations and show their age?
[HD] I think there's more than enough life in the current-gen consoles. [Developers] are really harnessing the technology and pushing it further each year. The idea of a new platform is always exciting for a developer, but it begins the cycle of learning new tech, finding its strengths and shortcomings, developing your tool sets and where and how you can get the best out the system, for the type of game you're developing. Not to mention releasing something to a developing market, which is a whole different issue.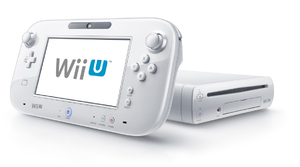 [TB] In a related question, what kind of process goes into deciding if and when to take the leap from the current-generation consoles to the next-generation ones? Will we see a Wii U version of Darksiders II?
[HD] We are doing a WiiU version – we're big Nintendo fans at Vigil, their games are what a lot of us grew up on. Their design philosophies and execution of those designs are amazing. We can't go into much detail about Darksiders II on WiiU now, but we look forward to sharing more information in the future.
[TB]With Darksider II hitting retail in less than 2 weeks, what is the next step? Will you be supporting the game with updates and patches? Will we see additional downloadable content released in the near future? Are there any new titles in the works — like Darksiders III — that you can talk about?
[HD] DLC is our first priority. We want to make sure there's more for players to do in our universe.
[TB] Do you have any tips or suggestions for those who are inspired by your work on the Darksiders franchise and are interested in pursuing a career in video game design?
[HD] I'd always say to look to the modding community for a great starting point. Work with others to produce something tangible as a team. Learn some of the free, accessible editors out there, like Unreal. Modding and using industry level tools get people thinking like developers. Potential hires need to understand why games are fun, why layouts, creatures, items, abilities etc. are placed and function like they do. Understanding their purpose, and then running and developing that knowledge, is important. If I see a level design, I want to know WHY they chose to do the things they've done, irrelevant of the outcome of the level (good or bad).
[TB] Silly question: When deciding on a title for a new Darksiders game, was there a lot of discussion about whether or not Darksiders would use the number two (2) or the Roman numeral two (II)? If so, is there a reason "Darksiders II" was chosen over "Darksiders 2"?
[HD] We did a few iterations of both, but the roman numerals always seemed the most fitting of the two.
[TB] When you can find time to relax and unwind what games are you currently enjoying?
[HD] I finished Max Payne 3 a couple of weeks ago, which was a really well put together action game. I keep coming back to Trials Evolution, such a fun, simple and addictive game that is executed so well. Others I've played in the last few months; Mass Effect 3, Walking Dead, Fez and Skyrim. I'm looking forward to finally getting around to spending some time with Journey, it looks amazing.
[TB] As a lead designer, what are your thoughts on the mobile gaming industry, specifically games for the Apple and Android platforms?
[HD] All gaming platforms play a part in shaping how gaming is perceived globally, they're all important in making gaming more mainstream/acceptable, thus making the market broader to allow developers of all levels, a chance create a wide range of games. The mobile side of gaming has given gamers, and non-gamers a great new outlet to enjoy entertainment on-the-go without the need to also carry a portable gaming unit. Their recent explosion has come down to the simplicity of touch controls and the accessibility to the media, which is always in your pocket, or pretty bloody close.
[TB] With Darksiders, gamers noticed the subtle nod to Nintendo's Zelda franchise. What influences (games, music, movies, television, etc.) helped in shaping Darksiders II? On the flip-side, how does it feel when other development studios talk about the inspiration and influences they found from Darksiders?
[HD] A lot of our influences come from the games we've played and loved. Some of those things are visually obvious to people, but we also bring in a lot from books, manga/anime, board games, movies, comics etc. There's a massive pool to draw from, each of them adding a little spice to the mix. I don't think there's any doubt that we're gamers, first and foremost; we don't try to hide it's a game in anyway. I think when other developers say they like your game, it's an immense compliment. They completely understand what's involved in doing what you've done, they know how easy or hard each component was to get in, and more importantly, how to get that component right. We have friends throughout the industry and we have fans from Riot Games, Sony, Bioware etc. we're honoured and humbled by it all. It's awesome, simple as.
[TB] When you aren't designing and playing games, what are some of your other interests and hobbies?
[HD] I spend a lot of time just hanging out with my family. I try to spend time reading fantasy books, nothing heavy, just fun titles like Way of Shadows (brent weeks). I like searching the net for cool concept art, watching movies, reading about photography. Coming from an art background, I could spend all day looking at art, anything from fashion, fantasy, architecture or graphic design.
[TB] I won't ask you to choose which character you like better, as that's like trying to pick your favorite child, but… oh hell — Which character do you like better: War or Death? Choose!
[HD] Death, it has to be Death. He's the eldest, most knowledgeable and the final answer to all that live. Plus, Micheal Wincott just made him so badass!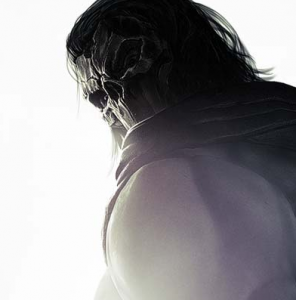 [TB] From a design point-of-view, what are some of pet peeves you find in today's video industry?
[HD] The vastly differing scoring systems used for games can be confusing, it'd be nice for some consistency.