Mad Catz's Warhead 7.1 has some exclusive features that will instantly leave serious gamers screaming "WANT!" But can added features and undeniable style justify it's hefty pricetag?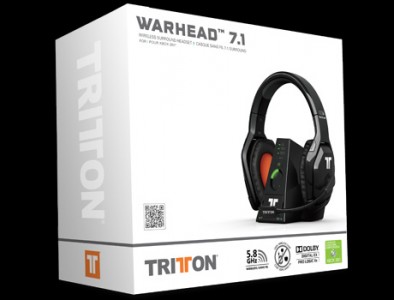 Right out of the box, the Warhead 7.1 is an impressive headset. In fact, even the box is cool. The heavy duty cardboard slides open to reveal a massive headset of gleaming black with just a few silver accents. The large earcups surround the ear fully for maximum comfort and improved sound. They are generously padded, as is the top of the headband, and feel very comfortable even when worn with glasses, a definite plus for long gaming sessions.
The Warhead 7.1 offers a lot of functions for customizing your sound, but they are placed in a way that doesn't create a large jumble of buttons that will have you fumbling for the right one. The left earcup contains a button that allows you to switch between analog and digital sound along the front of it, and a dial that gives you complete control of voices – both yours and other players. This is an awesome feature that gives you a lot more freedom in your play. Some games require you listen more closely to the in-game audio, while in others being able to clearly hear your teammates is crucial. I found the ability to cut out my own voice really cut down on distraction, as well.
The right earbud has a button on the front that gives you ability to choose between Dolby modes for maximum sound optimizing, no matter what you are playing or watching. The dial towards the back lets you change the audio of the game, or even mute it, if you like. At first glance, those appear to be the only buttons on the Warhead 7.1, but as you look inside the headset, you'll find a button on either side of the headset, right above each earcup. These are the power and Xbox connect buttons, and their placement is really ingenious. There will be no accidental power-downs with this headset, as it is near impossible to hit these buttons without removing the headset first.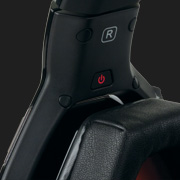 You heard me right – there is an Xbox360 connect button inside the headset. That's a feature you won't find on any other headset, because it is a Tritton exclusive. The connect button allows you to sync your headset to your console, much like you do with your controllers, making it a completely wireless product. This is truly one of my favorite features of the Warhead 7.1. Any time you can cut down on cables without losing functionality, it's always a win.
Now, how about that installation? For the less technologically savvy types, the thought of hooking up a complicated mess of unidentifiable parts can be a source of anxiety, as improper setup means you won't get that optimum sound you were looking for. The Warhead 7.1 promises to be easy to hook up, but does it deliver on that promise? Yes – yes it does. Simply snap in the microphone (a nicely sized adjustable model with mute button at its base), connect a cable between the xbox and base, hook the adaptor to the base unit and you're ready to go. It's really a very straightforward setup, clearly explained on the included setup pamphlet.
The base is a sleek black unit that holds your headset when not in use. It has lights on the front that show you at a glance what quadrant your headset is on, and even blinks when your battery is low so you can make a quick change. A very handy feature of the Warhead 7.1 is that it actually comes with two rechargeable battery packs, which means you can switch them out on the fly with no interruption to your game session. The battery in use hides inside one of the generously sized earcups, while the charging battery slides into the base unit. Both battery covers are held in place with magnets, a feature I love. No fumbling with getting it open, and no trying to tape on battery covers after those little plastic tabs break.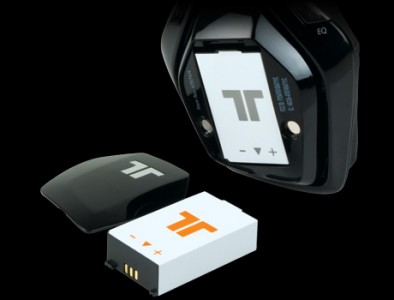 Every feature – style, comfort, convenience, etc. – plays a part in making a great headset. But the true test is how it performs in sound, and I couldn't be happier with the versatility and quality of the Warhead 7.1. At the push of a button on your earpiece, you can switch between gaming, music, and video sound, and it's very intuitive and simple to use. The base unit indicates which sound type is selected, and it does make a huge difference in the quality of audio. I was genuinely surprised by how great the music sounded through the headset, and the around the ear design of the earcups really cut down on any distracting background noise. A simple push switches to video mode for your favorite shows on Netflix, clips on Youtube, or a favorite DVD. Wearing the headset really gives you an immersive movie watching experience, as it puts you right into the action with crystal clear audio.
But, for a great headset, the games are where it's at. We tested the Tritton Xbox360 Warhead 7.1 Headset extensively, on every type of game – both locally and online. From racing games where the rev of the engine roars in your ears (and the splintering sounds as you crash into the railing, but maybe that's just me) to the smashing of hammers in Minecraft, we put the Warhead to the test. Gunshots ring clear, voices call out, pieces fall into place……whether you're a casual gamer playing your favorite puzzles, or a hard core gamer killing it on Call of Duty, the Warhead offers truly great sound. The ability to adjust voice and game audio means you can tailor your audio experience to each specific game – and the long lasting batteries means you can switch from game to game without losing a beat.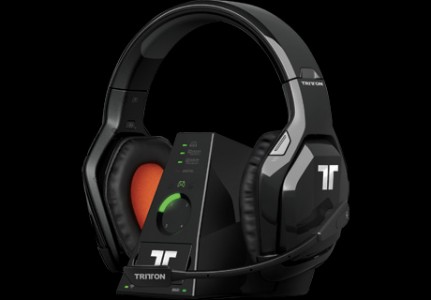 Final Thoughts:
Whether you're a dedicated game who just wants great sound, or a new parent who needs to game without waking the baby, a good headset is a solid investment that can truly bump your gaming experiences up a notch. The Tritton Xbox360 Warhead 7.1 Headset may not be the cheapest option out there, but it makes up for that in spades with functionality and style. It looks great, it sounds awesome, and it's worth every penny.