GoSum: It's like Scrabble, but with numbers and math equations, instead of letters and words.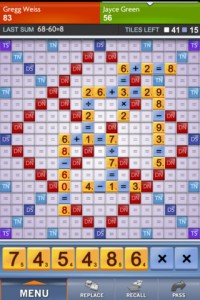 If you're looking for a casual game to play against friends, I'm sure you've likely sifted through mountains of Word games like word puzzles and word scrambles. There is nothing wrong with those types of titles, as their existence clearly shows that people enjoy good logic-based word games. However, what if you're looking for something different, but along the similar vein, then GoSum might be just for you.
Math games are certainly nothing new, but it is not often that a good idea comes along that makes doing math fun and enjoyable!
GoSum, for the iOS, was released on the marketplace last week, and if you have any sort of mathematical bone in your body, I suggest you try it out.
GoSum is like Scrabble, but instead of using letters to spell words, you're using numbers and operands (pluses, minuses, etc.) to create math equations.
The rules play out exactly like Scrabble, in fact the board itself looks very similar to that of Scrabble.
GoSum supports up to four people. Each person gets a bunch of number tiles and a couple of operands. Each number tile has a value associated with it, and like Scrabble there are spaces on the game board that will earn you double and triple bonuses if you place tiles upon them. There are also white spaces with equal signs on the board, which you can use to finish your equations. (What is an equation without an equal sign, right?)
For the most part the math is simple. Simple in that you only have to worry about the four basics: addition, subtraction, multiplication, and division. According to the most recent update squares and square roots were removed from the game.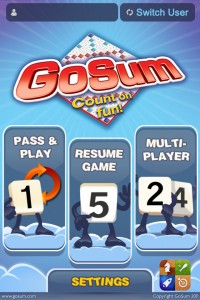 Don't expect to have super complicated equations, but you can string a much of numbers and operands to create longer equations (e.g. 7 – 4 + 6 = 9). If you don't have any usable tiles you can choose to replace any or all tiles, or pass.
GoSum is fun to play, but finding something to play with is the bad part. The multiplayer options are pretty limited. There is no off-line device-to-device multiplayer, at least not yet, and there is no computer-controlled A.I. You're either playing against another real person through the game's turn-based pass-and-play mode or playing online against somebody using an online service — or you're playing as multiple people by yourself (that's not at all crazy is it??!).
With the online flavor, GoSum has their own service which you can quickly and easily sign up for with an email and password, or you can log in using your Facebook account. If you already have a Facebook app on your iOS device, you'll only need to give Facebook your approval to allow GoSum to access your info. From there you can select people from your list of friends or get matched up with a random player.
For pass-and-play mode, you can only have one game going at a time, which makes sense. When resuming a game, you'll see what is a preview of the game in progress (essentially a screen capture) with information like the players involved, the turn you were on, and the date the game was last played.
Final Thoughts:
GoSum is pretty easy to explain. It's essentially Scrabble but instead using letters to spell words, you're using numbers and operands (pluses and minuses, for example) to create mathematical equations. If that sounds like fun to you, you're probably going to enjoy it. If not, don't even bother.
GoSum comes in two flavors, an iPhone/iPod Touch version for $0.99, or the HD version for iPad which will cost you $2.99. The version I reviewed was the standard version for iPhone/iPod Touch. I was able to play it just fine on both my iPod Touch and iPad. It looked played fine on both, although you have to use the 2x zoom feature when playing it on iPad. There are also free versions for both of GoSum's standard and HD versions. I'd recommend downloading and playing the free version to get a feel for the game, which I'm assuming is playable, but contains ads.
While it's fun to play against other people, I really felt the lack of a computer-controlled opponent (or opponents) was something that should have been included, as well as a Bluetooth/WiFi device-to-device multiplayer mode that didn't involve using a service like Facebook.
For the most part, playing GoSum was enjoyable and delivered just about what I expected: Scrabble with math.