Rangers financial troubles come to a distubring end – they might not be in FIFA 13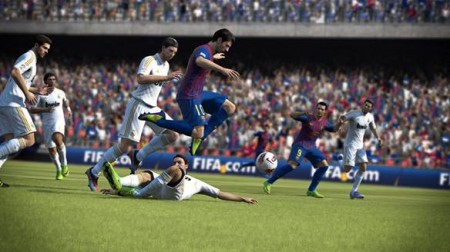 FIFA has long been associated with the slogan 'If it's in the game, it's in the game', being EA Sports motto, but a unique situation has presented itself this year for the team at EA Tiburon. Rangers FC (almost always wrongly identified as Glasgow Rangers FC to differentiate from the countless Rangers teams in the world) have been going through some well publicised financial difficulties of late. They had to be liquidated due to unpaid wages, transfer fees, taxes and other things of that nature which are rumoured to total over £134 million. Now they have been re-born as The Rangers FC PLC and subsequently were thrown out of the Scottish Premier League, only recently gaining a place in Scottish Third Division.
Rangers are a big club – they are the most successful team in the history of club football – and as such they attract lucrative sponorship deals. One of these deals was part of the SPL's deal with EA, meaning they would be included in each edition. Now that they now reside in the fourth tier of Scottish football their inclusion looks almost certainly over, for the time being at least. A spokesperson for EA said:
"We have a licensing agreement with the Scottish Premier League. We have discussed the league structure with them and we will take their direction regarding the 12th club. FIFA 13 will be in retail stores beginning September 28 – after the start of the SPL season – so we have the flexibility to align with the authentic league structure.
As far as Glasgow Rangers are concerned, we have not made a decision at this time on whether we will pursue a separate licensing agreement to include them in FIFA 13."
Rangers fans may not have much to look forward to this coming season, but if for some reason the Scottish Third Division does manage to get included in FIFA 13 I'll enjoy filling out East Fife FC's less than 1000 capacity stadium with fans.
Source: CVG