Activision and Terminal Reality's just announced take on The Walking Dead has a little bit of fresh info and one very cool SDCC bonus for those on their way to the Comic Con International.
San Diego Comic Con is this week and fans should expect the Dead to in full effect for the event. As a special bonus for those who preorder the new The Walking Dead shooter on the way from Terminal Reality, the first 100 folks who pony up at the Activision booth (#5344) will walk away with a prop from the game.
The first 100 pre-orders on site at Activision's SDCC booth (#5344) will receive an extremely limited edition version of Daryl's 'walker ears' necklace from the show. Attendees will also be able to place themselves into the horrors of The Walking Dead with a game-related photo-op.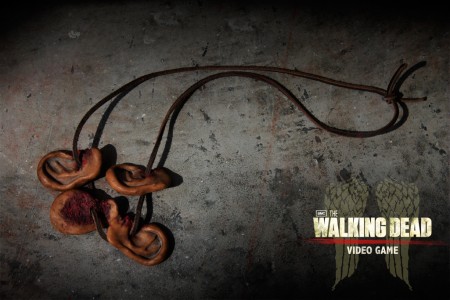 I don't know about you, but there's nothing I like more than placing myself into horrors. Fun!
As for the new info- it all sounds pretty good. Originally, I wasn't too thrilled with the idea of a shooter based in the TWD universe. Honestly Telltale's excellent adventure (party on!) game makes a heck of a lot more sense to me considering the pace and feel of the show and comic.
What developer Terminal Reality is describing in today's release though sounds a lot more 'survival horror' than it does shooter.
"The work AMC has done with the TV series has been amazing and we're ecstatic at the opportunity to be brought into the fold," said Drew Haworth, Creative Director at Terminal Reality.  "The studio is made up of fans of the show, and we think other fans will see that the situations and walkers featured in our game are every bit as gruesome and shocking as they are in the TV series – they look, move and react as expected with full authenticity – and they will surprise you.  The player's fight-or-flight survival instinct is constantly engaged.  'Flight' is usually a good bet."

Terminal Reality's The Walking Dead video game takes the undead and brings them out of the TV show and into console gaming systems in a new, terrifying way.  The iconic walkers will relentlessly hunt down players like their television counterparts, using a combination of sight, sound and smell.  As Daryl, players will need to tread carefully throughout each new area they explore.  Once discovered, it doesn't take much to attract an unstoppable horde of undead walkers, so every threat needs to be assessed, and every situation analyzed.  Players will have to choose between whether to stay and fight while risking a gruesome death or using stealth to avoid the undead.  No place is truly safe for Daryl as he makes his way through the Georgia countryside in this new, post-apocalyptic world.

Resources are scarce and scattered in The Walking Dead video game, and gamers will have to not only ration supplies, but carefully consider their food, medical needs, ammunition, and other goods as survival in the game is based upon wit and intellect more so than simple, sheer skill.  In order to endure this constant state of danger, players will have to do all they can to silence the noises they make and avoid detection.  Throughout his journey, Daryl will encounter a slew of other characters that can help or hurt him in a variety of ways, and whether or not they accompany him is completely up to player choice and represents just some of the major decisions that will constantly be made while fighting to survive.
The Walking Dead is scheduled for release on the Xbox, PS3, and PC some time next year. Don't forget to stop by and get your 'prize' if you're gonna be at the Con.