Zen Studios feeds your Avengers fever with four new tables that will have you heroically fighting for a high score.

Zen Studios' Marvel Pinball has already taken the game of pinball to new heights, creating tables that allow you to play out the lives of your favorite characters. Great pinball, great comics….what more could you ask for? How about a great story? While the idea of pinball as a storytelling device doesn't really seem to gel at first, the new Avengers Chronicles tables for Marvel Pinball get about as close as you can get without cheapening the pinball experience. With tons of great players, a vast difference in table designs, and some very cool table twists, Marvel Pinball: Avengers Chronicles takes pinball in a whole new direction.
There are four tables in the Avengers Chronicles pack, and they are all based more on specific events than specific characters, although each of them is crammed with favorites from the Marvel universe. While they all fit in with the Avengers theme in one way or another, they all definitely have their own flavor.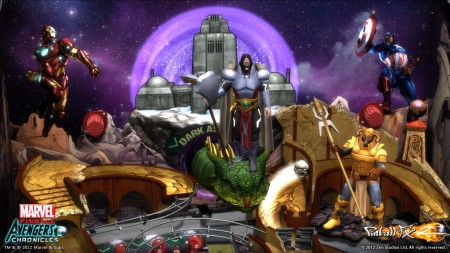 " As their fear strengthens, so too does my power." The Fear Itself table has a very apocalyptic feel to it, all flashing green lights and broken ramps and ominous stone, with flames rising over the abyss of space. The center of the table features Captain America's shield rended into two broken halves that serve as bumpers. Thor's hammer lays abandoned on a ramp while The Serpent looks on in triumph. Fear Itself has a lot of cool features to it, like the Uncertainty Gate and Summoning the Worthy, not to mention a wicked hard skillshot that requires you to spin around the bottom edges in a circle without losing your ball. It has a different look to it, as the bottom of the table is a series of circles that makes it a lot easier to lose your ball. The coolest feature of this table is by far the magnets, though. They can be equally helpful and catastrophic, giving you added play with a magnet save, or sucking your balls into the abyss as you are helpless to resist.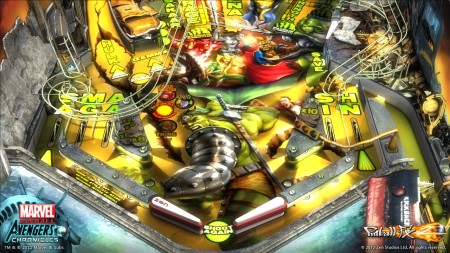 "I am not Banner. Banner is me." The first words that popped into my mind when I saw the World War Hulk table were "neon destruction." It is a very colorful table, and there is just so much going on here that it's hard to know what to look at first as a massive Hulk in a loincloth and metal gauntlet roars amidst the glowing ramps and rails. As the Statue of Liberty looks on, Hulk chooses the enemies he must face in his quest for revenge. The coolest part about the World War Hulk table is Hulk's Arena. This pinball table within a pinball table lets you take on a whole other set of lanes, hidden within the table.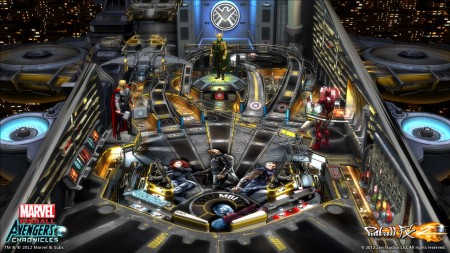 "Avengers, Assemble!" Where would an Avengers Chronicles game be without an Avengers table? Based on events in the new Avengers movie, the Avengers table has some cool twists that really give you variety in gameplay. The look of the table is very sleek and clean, all gold and gunmetal grey with glowing lanes radiating out from the middle. The twist here is that there is a different ball for each Avenger, and you can choose which one to play at each ball launch. The design of the balls perfectly coordinate with their Avenger, and the character voices and lines match the Avenger you are currently playing. The Quinjet waits above to carry the Avengers as you guide them through the perilous path to safety.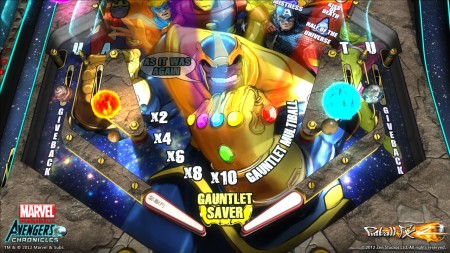 "Prepare thyself for battle most fierce and awesome." I have saved the best for last. The Infinity Gauntlet table is hands down my favorite of the Avengers Chronicles set. Adam Warlock personally calls you into the battle as the Silver Surfer waits to come to your aid. There are comic book characters all over the table, and a giant gold gauntlet hovers above. The table itself has a very spacey fell to it, with glowing blue ramps and floating planets hovering over stars and asteroids. It is the Infinity Gems attached to this table that make it so unpredictable…and so very fun. When I first hit the Mind Gem, I was laughing like crazy as balls flew everywhere, my flippers went wonky, and my controller started shaking uncontrollably. Each of the six gems has a different effect, but my favorite was the Reality Gem, which literally flips the table upside down and forces you to play that way.
Final Thoughts:
Marvel Pinball: Avengers Chronicles takes an already great game in an awesome new direction. Pinball isn't a game that generally offers a lot of interaction or surprises, but Avengers Chronicles throws out convention with four tables that will have you playing over and over for more than just hitting the high score.
Another Take by Justin Alderman
Zen Studios is the clear leader when it comes to video game pinball and their partnership with Marvel has produced some of the best pinball tables that I've ever played, real or digital. The Avengers Chronicles pack is another great addition to the core tables found in Marvel Pinball and in many ways these four are the best that the studio has produced yet.
Each of the tables in this pack is amazingly well designed and contains features that, as far as I know, have never been done in a game of pinball before. The best example of this is the Avengers table which has different balls representing each of the members of the Avengers. Far from being just different colored balls, each of these has their own bonuses like kickbacks, ball saves, combos, etc.. It's a great idea that adds a new element to that one table depending on which character you play as.
For $9.99, the Marvel Pinball: Avengers Chronicles DLC pack is a great value that adds four outstanding tables to the Marvel Pinball lineup. If you have even the smallest interest in pinball, and anything aside from a complete loathing of the Marvel Universe, the Avengers Chronicles pack is a must buy.