Marsheila Rockwell brings a tale of desperation and love, violence and intrigue, betrayal and redemption. "Welcome to Tarath Marad."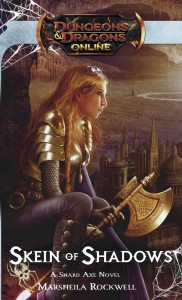 Sabira d'Deneith has a rough road to travel. Being a Sentinel Marshall means constantly being on her guard, fighting monsters and crime alike. It also means that the devastation of losing a partner, a friend, is more a matter of "when" than "if." Years ago, Sabira lost her partner Ned under horrifying circumstances, and while she struggles to deal with the loss without drowning herself in undeserved guilt, there are others who cannot accept that she is without blame. Unfortunately, those doubters stand in the way of her building a life with the man she loves.
When Ned's sister Tilde goes missing in the midst of a mission to prove herself, Sabira is given the opportunity to redeem herself in the eyes of the family. The rescue mission is not to be undertaken lightly, with success a mere hope and casualties a near probability. Sabira, knowing she has no choice, sets off to save Tilde….and her own future.
Skein of Shadows is a Shard Axe novel, a name that is derived from the magical weapon Sabira carries. It is a sequel, and while at times it does leave newcomers wondering at things that may have happened previously, for the most part it works well for newcomers to pick up and read without starting from the first (although the story may have you looking it up just out of curiosity). The world of The Shard Axe is a part of Dungeons & Dragons Online, which provides fans a chance to delve deeper into the background of their favorite game. Readers don't need to have ever picked up a d20 to enjoy this tale though. Any fan of the fantasy genre will soon be caught up in Sabira's ragtag group of heroes as they make the dangerous trek across the desert and into the bowels of the earth itself to save Tilde, at any cost.
I had not read any Marsheila Rockwell books previous to this one, so I cannot compare it to her previous works, but I found the character development in Skein of Shadows to be excellent. Each of the characters from the main ones like Sabira and Greddark to those who made smaller appearances, like Elix and Tilde, draws you into their lives and makes you care about what happens to them. There are various intrigues keep you wondering about which ones are really on Sabira side, and which are just pretending to be in order to get close. The battle scenes are detailed enough to make you feel as if you are there, but for the most part not particularly gory. As there is also no profanity or sexual content, I would feel very comfortable handing this to my fantasy loving teen.
Final Thoughts:
Skein of Shadows is a well-written tale that sets readers down into the world of Dungeons & Dragons Online and pulls them into a story of a competent yet caring heroine who does what has to be done, regardless of the cost. Current D&D fans will enjoy delving into the world of The Shard Axe, but any reader who enjoys fantasy can enjoy this engrossing tale of love and betrayal.