First Saints Row and now Darksiders… Maybe it's time to start questioning the motives of THQ's new president.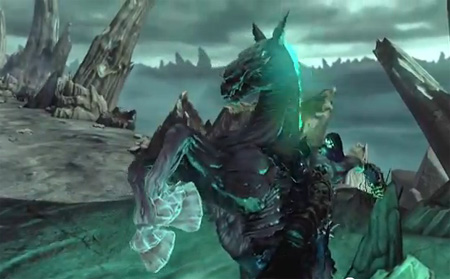 In the same interview with The Verge that revealed THQ president Jason Rubin's desire to remove all the aspects that fans like about Saints Row from the franchise, the newly appointed boss also seemed to hint that he would like Vigil to do something else outside of the popular Darksiders series.
Rubin's exact quote about Darksiders reads ""Darksiders II is very interesting but I think I can get that team to make other very interesting games,"
While I halfway understood Rubin's thoughts on Saints Row (not agreed with, just understood) this move makes no sense at all. THQ is literally standing on the end of the financial cliff right now and even has even admitted as much in a recent SEC document. What the company needs to do is focus on the few successful and proven IPs that it has, not push them aside or attempt to change them into something that they are not. Building other franchises outside of that handful of successful games is smart, but you don't do it at the expense of the few money-makers that you have left.
At this rate I full expect Rubin to announce next that he intendeds to take all the wrestling aspects out of WWE' 13, the subway out of Metro: Last Light, and have Crytek move the setting in the next Homefront game to a country outside of the U.S..
Source: VG247