A rumored cancellation of a speculated-to-be-in-development title. If ever there was a story to take with a grain of salt, it's this one.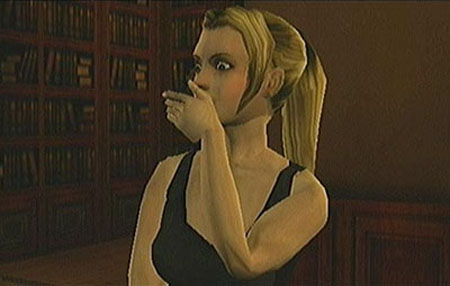 [Update] Silicon Knights' boss Denis Dyack has responded to the rumors saying "Silicon Knights has unfortunately had to lay off a small number of people," he said. "We are scaling back to a core group and focusing all our efforts on future opportunities. As to the rumor about Nintendo, it is not true and has no basis in fact," Source: GamesIndustry.biz
Original story below.
As evidenced by my 5 minute lecture about how great Eternal Darkness is during our E3 2012 Brutal Gamer Hangout, you could say that I'm kind of a huge  fan of Silicon Knights' classic psychological horror game. It would also be fair to say that I was slightly excited when the company announced last year that they were "refocusing and returning to [their] roots, working on one of [their] most requested titles for the next generation", which I naturally assumed to be Eternal Darkness 2. Assuming you were in the same boat as me, and all the other right-thinking gamers, then some rumored bad news has come out that claims Nintendo was funding what would have been the greatest sequel of all time, and they have pulled the plug on it.
The source for all of this comes straight from NeoGAF, so this is about as far from official as it gets, but this story goes like this. Nintendo, as one of the stock owners of Silicon Knights, was funding the sequel to Eternal Darkness for release on the Wii U. After Silicon Knights lost their court case against Epic Games over Unreal Engine 3, and was ordered to pay $4m plus legal fees, Nintendo decided that the total cost to keep the studio going was too great and pulled the plug on Eternal Darkness 2. This forced Silicon Knights to lay off their remaining employees and puts the entire future of the studio in jeopardy.
With all that said, I'm not so sure how much of this I believe. Aside from the lack of a source for this rumor, it doesn't make any sense for Nintendo to pull the plug after this court ruling. Silicon Knights has already stated that they intend to appeal the decision, which means they could end up having to pay Epic Games less than the $4.5m or even nothing. I would think that Nintendo would be willing to wait for the final outcome before pulling the plug on the whole operation, assuming there is even an operation for them to pull the plug on in the first place.
For now just keep all of this in mind, and if there is any truth to it I'm sure it will come out eventually.
Source: WeGotThisCovered