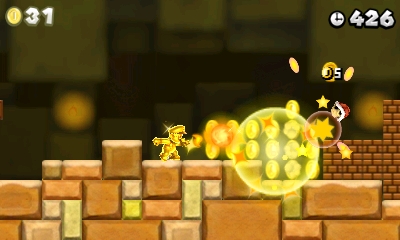 Nintendo ended their 3DS E3 2012 presentation last night by showing a bunch of new details about New Super Mario Bros. 2 and revealing that the game will launch on August 19th at both retail and as a digital download through the Nintendo eShop.
NSMB2 will feature a new mode in addition to the traditional single player mode called "Coin Rush". In this mode the game picks three levels that the player has already completed for them to run through again and collect as many coins as possible. Extra coins are awarded for speed runs, however you only have one life in this mode so perfect platforming skills are required. To help rack up the coin total in the levels there is a new Gold Mushroom that turns Mario into gold and allows him to throw fireballs that turn everything (bricks, enemies, etc) into coins. Once the three levels are completed in Coin Rush the number of coins that you collected are loaded into your "Coin Rush Bank" and that information can be passed to other players via StreetPass, so that they can compete against your coin score.
Nintendo also announced that NSMB2 will feature a co-op mode where two 3DS owners can play the game together, in a similar fashion as New Super Mario Bros. Wii.
Check out the gameplay demo of New Super Mario Bros. 2 that was shown during the E3 conference, along with a gallery of screenshts, below. Additionally you can head here and skip ahead to the 46 min. mark to see a demo of the game's single player, co-op, and "Coin Rush" mode.