E3 behind-the-scenes ramblings of crazy video men (and women).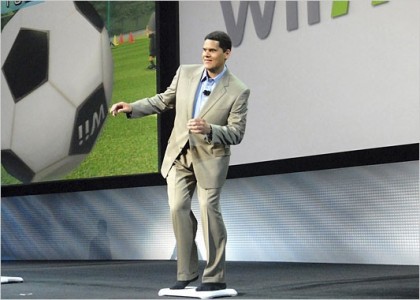 Want to know what we all thought about E3? Too bad! We're going to tell you anyway! You friends at Brutal Gamer (bicker amongst themselves and) share their thoughts about this year's E3.
Microsoft's SmartGlass
Justin: "Microsoft just totally scooped Nintendo's Wii U controller with the smart glass app."
Troy: "That was pretty cool. I've played around with the Xbox Companion software with the Windows 8 Consumer Preview, and it's pretty neat."
Dan: "It'll be interesting to see how Reggie maintains his composure and battles this news."
Justin: "I'm sure Nintendo has something else in mind that will set them apart though. One thing you can never do is count Nintendo out."
E3, in General
Zeth: "Christ this E3 is going to suck the big one… Blah… Why do we even bother?"
Dan (to Zeth): "Zeth, please accept this E-hug."
Tomb Raider
Dan: "Is anyone else not giving a crap about the new Tomb Raider? It feels like Uncharted 4: Lady Drake. Next."
Brandon: "Lol, the difference between the new Tomb Raider and Uncharted is I don't have to spend three hours dusting off and updating my PS3 to play it."
Justin (to Dan, obviously): "Screw you, Dan."
Dan (to Justin): "New franchise reboot does not equal Tomb Raider. Also, I love you too, Justine."
Justin (back to Dan): "Why don't you just go back to your digital downloads [Editor: Dan was downloading the new Sonic the Hedgehog for review], and I'll let your mom take me to GameStop to buy me a copy of Tomb Raider when it comes out next year. P.S. I'm not even sure what that means."
Amy: "Wait a minute… finally get a second to check email today ONLY TO FIND OUT THAT JUSTIN IS ACTUALLY DAN'S FATHER?!?! Hanna, you don't need your soap operas anymore."
Pikmin 3
Justin: "It's about damn time. I've been waiting for Pikmin since GameCube."
Quantic Dreams' Beyond Demo
Justin: "I like how they say what a great actress she is and then play a clip which she literally just sits there." (After Ellen Page is announced as the brilliant actress who will play the part of Beyond's main character.)
Zeth: "I will literally delete the entire site if you guys talk smack about Beyond. Chick was acting up a storm… Tch!"
Leigh: "Don't even joke about that. I'll attempt to fix the forums and do it myself, you know that."
Assassin's Creed III
Justin: "ACIII ship battles are making sweet love to my eyeballs."
The Last of Us
Justin: "The Last of Us… Damn."
Phil: "Yep. That's just hot. I want that like yesterday."
Dead Space 3
Justin: "Just turned on the conference. Guess Dead Space is officially a bro-shooter now."
Dan: "Giant Necromorph butthole eats you? I officially give up on DS3."
E3, in General. Again.
Justin: "Is it just me or is this the dullest E3 in recent memory? …all three conferences were boring."
Anthony: "It's just you. I can't recall an E3 I gave a crap about."
Mike: "I wanted a Wii U at the start of the conference. At the end, I didn't. Worst. E3. Ever."
Justin: "Honestly the only cool thing that Nintendo showed at all for the Wii U was Pikmin 3 … Maybe I'll go watch that ACIII ship battle demo again."
Barry: "Welcome to the tail end of the generation."
Zeth: "I believe I called it yesterday – this year's E3 is 100% "MEH" at best. Shame but it's the end of the cycle. Hardware drops next year, though."
Hanna: "…I was wondering if E3 was really starting to be obsolete. Do we really need all this flash? Sounds like they haven't made any big announcements. The spectacle is… gone?"
Phil: "The real spectacle is PAX. So awesome."
* * * * *
Twitter Ramblings:
@Leigh_BG: Coincedently make all the game journos stare at dancers. Nintendo, you know how to please your critics.
@SirSpoon: I love Nintendo but….wow. That was not good for them. This is their next system. It has to be better than that.
@Ognawk: OK, so I'm not getting rid of the 3DS just yet. Also, not sure I'm interested in WiiU.
@Ognawk: At what point does 'New' Super Mario Bros. stop being 'New'?
@Ognawk: "It's clearly different from the Super Mario Wii U game." Yup. It has a '2' instead of a 'U'. (Regarding the true differences between New Super Mario Bros. 2 and New Super Mario Bros. U)
@HarryBandell: "Lose weight in a revolutionary new way, you fatsos." – Reggie Fils-Aime, 5/6/12. #E3 (Wii Fit U)
@Leigh_BG: One thing that can be said about Nintendo, gotta love the music.
@HarryBandell: Still going to sell my 360. I want to play games more than anything else.
@TroyBenedict: BEEEEP! BEEEEEEEP! BEEEEP #LastOfUs (Regarding The Last of Us profane language and G4 TV's excessive use of the swear bleeper.)
@BrutalGamer: Lots of cussing. I like it! #TheLastOfUs (On the excessive swearing — bleeping aside — in the Last of Us.)
@Leigh_BG: Where is Kevin Butler, that's all that matters. (On Sony's press conference.)
@SirSpoon: I swear I thought the "WonderBook" would do more lifting and separating. #E3
@BrutalGamer: New drinking game: one shot for every time they say "J K Rowling"
@Leigh_BG: "A safe environment to practise our spells in" Don't worry everyone, panic averted! (On the J.K. rowling Wonderbook title.)
@BrutalGamer: this—> @jeffgerstmann: Holding out for the 50 Shades of Grey Wonderbook.
@TroyBenedict: After playing Happy Action Theater, I'm pretty sure Kinect can do a full-room augmented reality Wonderbook…
@Leigh_BG: God I'm getting sick of all this exclusive DLC bullshit.
@SirSpoon: Do people actually talk like that when playing a co-op game? (On the FarCry 3, 4 player co-op.)
@danspiler: Dear @Ubisoft , please take the ship stuff from AC3, and make a pirate game. Thanks!
@SirSpoon: So many people want Sony to do well. I think it shows the good will they have built up over the years.
@danspiler: Liberation should have been hyped up waaaaay more before this. Also, Open world eh? "buy more stuff, and we give you some extra textures"
@HarryBandell: Looking forward to seeing what David Cage and Quantic Dream have "divlopped". #E3
@Denzalo: Watch Dogs? Oh god yes. #E3 @Ubisoft
@HarryBandell: For a minute there, Ubisoft's show was saved. Should've kept the hosts backstage and stopped the conference after that Watch Dogs demo. #E3
@Leigh_BG: Yeah, Ubisoft won this E3.
@Barry_BG:Is it possible for Ubisoft to win best AND worst conference?
@Barry_BG: Gamer first, woman later? Get off the stage
@Barry_BG: Just watched Rayman with a big, dumb grin on my face. So so good. Rayman Hero!
@Barry_BG: UFC and EA on stage together?? Oh crap, poor THQ
@Barry_BG: I know it makes me a big hypocrite. But there's just something about Medal of Honor I find… distasteful…
@Ognawk: Meanwhile, in the BG staff e-mail thread, @danspiler is attempting the World Record for using the word 'Ballsy' the most times in an hour.
@SirSpoon: Grrr. Spoon Angry. No likes Premium. #E3 #GTE3
@Leigh_BG: Microsoft press site sucks.
@Leigh_BG: Hey PR! Whenever you're ready to send out those trailers, I'd be very thankful.
@Barry_BG: My favourite bit about the MS conference was the bendy screen in the background.
@SirSpoon: Escort mission in COD. Who could have guessed? Everyone.
@DogFingers: As if people arent irritating enough with their phones, now: fiddle needlessly it while watching films! #E3 #Microsoft
@SirSpoon: Smart Glass looks really cool. That would have to take more setup than they are showing right?
@Leigh_BG: Machinima getting it's own Xbox App? Daaymn, we be moving places.
@TroyBenedict: Busy day at the office means I'm obviously missing the Microsoft E3 presser! Ack! Gonna try and catch-up during lunch! (For the record, I didn't catch up and I still haven't caught up.)
@Barry_BG: Holy hell. Halo looks so pretty…
@Dogfingers: Imagine if Master Chief took his helmet off and it was a woman… gasp