"…You don't create passion by pursuing success. You create success by pursuing your passion."  Tony Goodman, Ensemble Studios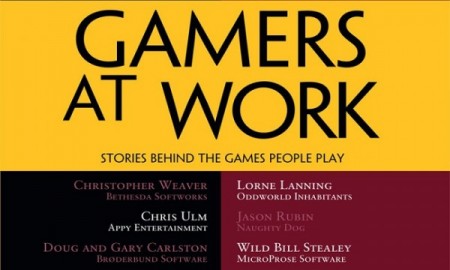 As gamers, most of us have wondered at one time or another what really goes into putting our beloved games on the shelf. Many of us have even entertained dreams, big or small, of breaking into the games business at one time or another. What would it be like to start up a gaming company, be it development or publishing? How does one go about putting together a business plan that inspires confidence? What are the risks and rewards involved in striking out on your own? While much ado has been made about entrepreneurs in the business world, there just aren't a lot of resources out there that specifically relate to the gaming world.
Whether you just want a closer look at the behind the scenes processes of building a game, or you are interested in starting up a business and want a look inside the process, Gamers At Work provides an unparalelled look into some of the most legendary names in gaming. You'll find in-depth interviews that really get into the heart of what building a company in gaming takes, as well as a look into the personalities and personal struggles of such greats as Warren Spector, Trip Hawkins, Christopher Weaver, and more.
Gamer At Work is a first effort from author Morgan Ramsey, who is himself an entrepreneur in the gaming industry, serving as founder and CEO of the Entertainment Council. Gamers At Work is not a how-to book, or a story about the history of video game start-ups. Rather, it is a series of interviews that gives us a look into the minds of the leaders who have helped shape the video game industry into what it is today, in their own words.
Each interview is presented in the standard question and answer fashion, and are quite lengthy. The interviews focus on such aspects as the use of venture capital vs. personal funds, recruiting talent, the challenges in getting a company started, how home life suffers, and even the processes involved in buying a company out. The subjects are in general very forthcoming, and while there isn't much for truly shocking disclosures, there is a wealth of information that gaming enthusiasts and start up wannabes will find fascinating.
Gamers At Work is really not a book for everyone, though. Since it is presented as only separate interviews (each prefaced by a short bio of the subject), it tends to get a bit dry at times. As is usually the case, some interview subjects are more interesting than others, and some offer much more in the way of personal information than others. Interesting as it is to more hardcore gamers, a lot of the subject matter will be a bit more technical than most casual gamers will care to hear. Gamers At Work is definitely a book for gamers who want to look past the general information commonly put out and get into the details of how these video game companies came to be.
By focusing on the people behind the games rather than the companies themselves, Ramsay allows us to see the more personal side of gaming start-ups. But it also shows us that, many times, the company an individual is most famous for is not always their first (or last) company. Many of these people are serial entrepreneurs, as if starting companies is something they are compelled to do.
Final Thoughts:
Gamers At Work is a rather technical look at the enigmatic personalities behind companies like Electronic Arts, Atari, Bethesda Softworks, Insomniac Games, and many others. Author Morgan Ramsay gives readers a look into the minds of some of the most legendary studios in gaming history. While it is at times a bit dry for the more casual reader, it provides a wealth of information for those who want to know more about both the history of gaming, and the process involved in video game startups.