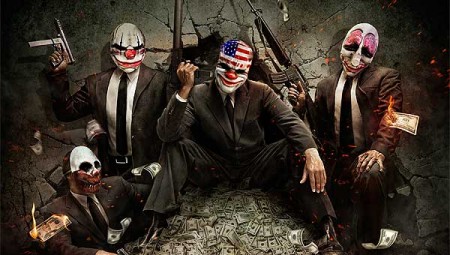 Safe to say you'll need three friends for this one.
Overkill, the developer of Payday: The Heist announced on their website a partnership with Valve on a 'co-operative initiative'.
Ulf Andersson, Overkill's Game Director released the following statement regarding the project:
"As  perceptive gamers will have noticed, several hints have recently been  dropped into PAYDAY The Heist, which has led to various rumors. We are  excited to be able to confirm that an in-depth collaboration between  OVERKILL and Valve is currently in production.

We are  working on a very cool blend of PAYDAY and Left 4 Dead. I am sure it is  so exciting that it will have some players check into the hospital  before we are done."
So there you have it. An exciting tease of things to come, mixed with a bit threat to players well-being. Whatever is born of this collaboration, please play with caution!
Kidding aside, the 'hospital' line sounds like a not-so-subtle hint at what's being developed. Perhaps the hospital level from the first Left 4 Dead game will be adapted for Payday? Perhaps players will being stealing from zombies? Only time will tell!
Source: Overkill Software.