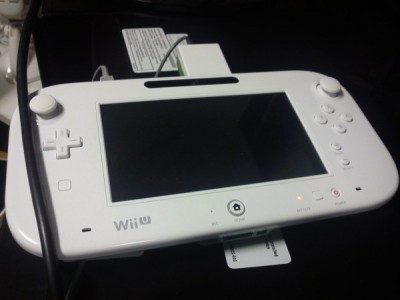 A picture of the latest version of Nintendo's Wii U controller makes it look like the company may have ditched the 3DS-like slide pads for a set of real analog sticks.
The image comes from Matt Boosh, a QA tester at TT Games, who Tweeted the pic with the caption "Nintendo fanboys alert: look what we have at work!". [Update] Matt Boosh removed the original Tweet and picture of the Wii U controller, along with his entire Twitter account. An image of his original Tweet is located at the bottom of this post.
There are several differences between the Wii U controller pictured and what we saw at E3 last year, the most obvious of which are the analog sticks. There is little doubt that the picture is real, however, what is shown may not be the final version of the controller that Nintendo will show off at E3 next month. With that in mind, consider this a rumor until something official comes from The Big N.
The old E3 2011 controller is pictured below for comparison.