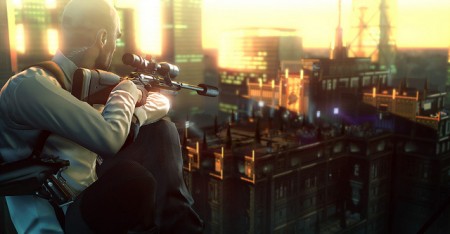 IO Interactive announced today that Hitman: Absolution will launch in North America on November 20th, but the more interesting news is what Hitman: Sniper Challenge is and when you will get to play it.
Sniper Challenge developed from an early prototype of sniper gameplay that was originally planned for Absolution, that didn't work out but the developer's had so much fun with it that they turned it into its own mini-game of sorts. Sniper Challenge is played by using an sniper rifle-equipped Agent 47 to eliminate targets in/around/on a distant building until you can take out Richard Strong Jr., CEO of Stallion Armaments. The better you do, the higher you go up the online leaderboards, and the more equipment that you will unlock to use in Hitman: Absolution when the game launches.
The catch to all of this is that to play Hitman: Sniper Challenge you will have to pre-order Hitman: Absolution from GameStop. The good news is that if you do decided to go for it, you will be playing Sniper Challenge starting on May 15th.
I'm not much for pre-ordering games, but stuff like this has a way of making me change my mind.
Source: PlayStation Blog