How low can they go?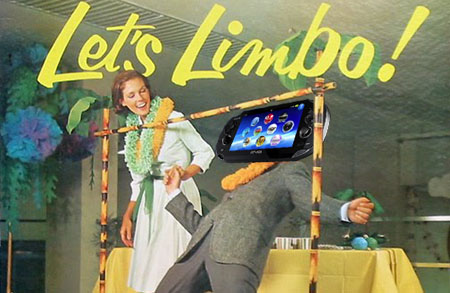 According to Media Create sales data the PlayStation Vita sold a scant 8,206 units in Japan for the week ending April 22, 2012, marking not only the third week in a row that Sony's handheld fell below the 10K mark but also a new all-time low for weekly sales in the country. This put the Vita well below the top three systems on the hardware charts (3DS with 84K, PS3 with 17K, and PSP with 11K) and dangerously close to falling below the Wii, which sold a little over 7,000 units for the week.
Software sales for the Vita were equally as bad, with the system failing to have any representation in the top 20 chart. The 3DS dominated the software sales chart with 9 titles in the top 20 (including the number one spot with Fire Emblem: Awakening), followed by the PSP with 5 titles, and the DS, PS3, and Wii each claiming 2 spots.
With the Vita continually finding new ways to disappoint in terms of sales it won't be long before third-party developers start to question the wisdom of using resources to support such a small user base with software. Sony needs to do something to encourage sales, with the easy answer being to drop the Vita's price tag. Sadly, that is far from a easy call to make considering the troubled state of Sony's finances.
The full Japanese hardware and software sales charts for the week ending April 22, 2012 are as follows:
Hardware
|System | This Week  | Last Week  | Last Year  |     YTD    |  Last YTD  |     LTD     |
----------------------------------------------------------------------------------------
|  3DS  |     84.760 |     63.796 |     23.038 |  1.461.116 |    920.133 |   5.743.259 |
|  PS3  |     16.390 |     17.765 |     19.033 |    474.147 |    446.353 |   8.110.532 |
| PSP # |     11.779 |     13.166 |     49.427 |    317.723 |    751.974 |  19.047.107 |
|  PSV  |      8.206 |      8.250 |            |    227.891 |            |     667.877 |
|  WII  |      7.025 |      6.837 |      7.866 |    181.128 |    243.980 |  12.344.349 |
|  360  |      1.282 |      1.373 |      1.891 |     24.595 |     37.510 |   1.560.640 |
| NDS # |      1.276 |      1.433 |     13.561 |     32.738 |    376.395 |  32.841.224 |
|  PS2  |      1.172 |      1.212 |      1.163 |     18.478 |     27.561 |  21.792.585 |
Software
01./00. [3DS] Fire Emblem: Awakening # (Nintendo) {2012.04.19} (¥4.800) – 242.600 / NEW
02./00. [3DS] Code of Princess (Agatsuma Entertainment) {2012.04.19} (¥6.090) – 19.554 / NEW
03./03. [3DS] Super Mario 3D Land # (Nintendo) {2011.11.03} (¥4.800) – 14.491 / 1.519.303 (-20%)
04./01. [PSP] 2nd Super Robot Wars Z: Saisei-hen (Bandai Namco Games) {2012.04.05} (¥7.330) – 13.560 / 313.402 (-61%)
05./06. [3DS] Monster Hunter 3G # (Capcom) {2011.12.10} (¥5.800) – 13.069 / 1.403.296 (-13%)
06./02. [3DS] Kingdom Hearts 3D -Dream Drop Distance- # (Square Enix) {2012.03.29} (¥6.090) – 12.881 / 289.668 (-39%)
07./05. [3DS] Kid Icarus: Uprising (Nintendo) {2012.03.22} (¥5.800) – 10.915 / 231.558 (-28%)
08./08. [3DS] Mario Kart 7 (Nintendo) {2011.12.01} (¥4.800) – 10.892 / 1.660.759 (-11%)
09./00. [3DS] Cho-ricchi! Tamagotchi no Puchi Puchi Omisecchi (Bandai Namco Games) {2012.04.19} (¥5.040) – 8.453 / NEW
10./00. [NDS] Detective Conan: Prelude from the Past (Bandai Namco Games) {2012.04.19} (¥5.040) – 8.312 / NEW
11./07. [PS3] Pro Baseball Spirits 2012 (Konami) {2012.03.29} (¥7.980) – 7.954 / 139.758 (-45%)
12./04. [PSP] Pro Baseball Spirits 2012 (Konami) {2012.03.29} (¥5.980) – 7.833 / 111.919 (-54%)
13./09. [NDS] Pokemon Conquest (Pokemon Co.) {2012.03.17} (¥5.800) – 6.976 / 302.950 (-33%)
14./10. [3DS] Mario & Sonic at the London 2012 Olympic Games (Nintendo) {2012.03.01} (¥4.800) – 6.104 / 137.326 (-26%)
15./14. [WII] Wii Sports Resort with Wii Remote Plus # (Nintendo) {2010.11.11} (¥5.800) – 4.567 / 919.259 (+8%)
16./00. [PSP] Seinaru Kana: Orichalcum no Na no Motoni # (CyberFront) {2012.04.19} (¥6.090) – 4.406 / NEW
17./00. [PS3] The Lord of the Rings: War in the North (Warner Entertainment Japan) {2012.04.19} (¥7.980) – 4.199 / NEW
18./00. [PSP] Detective Conan: Prelude from the Past (Bandai Namco Games) {2012.04.19} (¥5.040) – 4.037 / NEW
19./17. [WII] Mario Kart Wii (Nintendo) {2008.04.10} (¥5.800) – 3.967 / 3.550.906 (+13%)
20./00. [PSP] Miyako: Awayuki no Utage # (Idea Factory) {2012.04.19} (¥6.090) – 3.824 / NEW
Source: NeoGAF