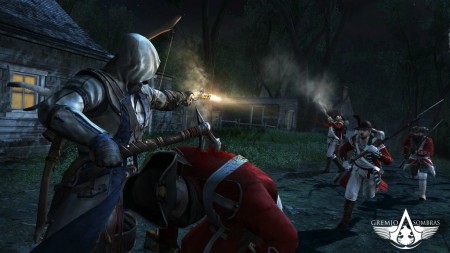 American science fiction author John L. Beiswenger has filed a lawsuit against Ubisoft, alleging that the Assassin's Creed franchise infringes upon ideas in his novel Link.
According to the court documents, Link was created in 2002, predating the first Assassin's Creed game by five years, and is based on the premise that memories from ones ancestors can be "accessed, recalled, relived and re-experienced" by that persons descendants using a device called the Link.
An example of the device, stated in the novel, reads "If John Wilkes Booth fathered a child after he assassinated Lincoln, and we found a descendant alive today, we could place Booth at the scene and perhaps smell the gunpowder.' 'Ancestral memories?' 'As far back as you want.'"
Several other similarities between Link and Assassin's Creed in the lawsuit including references to "spiritual and biblical tones", God and "the Garden of Eden".
Perhaps the most laughable similarity that Beiswenger mentions in his lawsuit is that both his novel and Assassin's Creed deal with a "battle between good and evil". Obviously, Beiswenger is unaware that many fictional stories (and real life events) throughout human history also center around battles between "good and evil".
Beiswenger is seeking damages for every single Assassin's Creed product released since 2007, including strategy guides and trailers. He is asking for no less than $1.05 million in damages, with up to $5.25 million if it is found that Ubisoft willfully infringed upon his Link copyright. Worst of all, for gamers anyway, is that he is asking that the judge block the release of Assassin's Creed III.
Sounds about right. Ubisoft finally does something with the Assassin's Creed franchise to get me excited for the next installment, and some unknown author decides the time is right to try and block its release after sitting on a lawsuit for five years.
[Update] John Beiswenger has decided to dismiss his chargers against Ubisoft "without prejudice", and has settled with GameTrailers out of court. This will allow him to pursue legal action against Ubisoft in the future if he chooses, but for now his representative has said that he "has chosen to focus on other matters." Link
Source: GamesIndustry, Court Documents